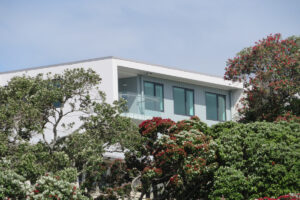 Each day we give thanks for living in this beautiful village on the coast of the Waitemata Harbour in Point Chevalier – Rangi Mata Rau. We hope to learn more of the Maori history of the land as time goes on.
Our third floor apartment, 532 Caswell, is on the north-west corner of the site, with wide views on two sides. The building is named after City Missioner, Reverend Douglas Caswell, who in 1949 raised finance to buy a 25 acre block of land to create accommodation for older members of the community. What foresight he had!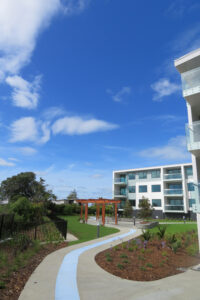 Selwyn Village is set in park-like grounds, with colourful gardens and and mature trees, and fringed with old pohutukawa on the coast. It's at the end of a no-exit road, so very quiet.
Staff and residents are varied and mostly cheerful, including a good bunch of lesbians (some affectionately called by their neighbours "the get-up-and-go-girls"). There are over 30 interest and activity groups in which residents can participate. We have both joined a modern gym with green machines, and a Tai Chi class.
Tanya has joined the Green Team, recently initiated by some of the dykes, and working towards Selwyn becoming a Climate Positive Village with sustainable composting and recycling systems. Charmaine has joined a choir, and also frequents the library, which is well-stocked and varied.
Tanya's Cloudscapes
The rhythmic tidal waters of the the Waitemata, and ever-changing cloudscapes, are our daily companions, along with the land and sea birds flying close by our deck and windows.