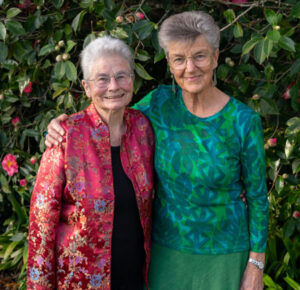 We are definitely entering a new stage in our lives together.
Tanya is slowing down, but trying to keep her body moving through daily walks and weekly gym exercises,Tai Chi and bike riding round West Auckland. She is also gardening, of course, growing vegetables in a small allotment offered to her by Adrienne, a friendly neighbour from the village.
Charmaine, at 80, is a little more fragile, but grateful to be alive and to have Tanya's support, as she is definitely feeling her age. She is learning to manage some short-term memory loss, and is living in the moment more, taking naps when needed, reading lots, and enjoying watching the changing tides and clouds.