Slowly we are exploring parts of West Auckland that are new to us.
Close to home there's a series of lakes which are part of the stormwater system of the city, and which, like Lake Paremuka here,  feature extensive native plantings and interesting sculptures.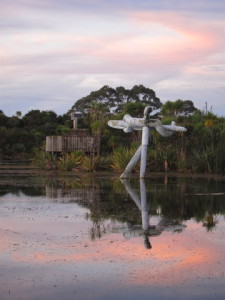 At Hobsonville Point, a huge new subdivision on the old Air Force base to the east of Massey, there are several exciting public art projects, including a Virginia King sculpture representing a traditional hinaki (eel trap), with a poem by Fiona Farrell inscribed in the ripples around its base.  And especially popular with children and parents is the children's playground, which features giant  models of native seed pods to climb on and through….