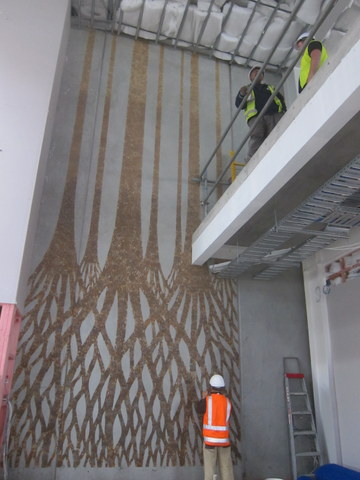 We are delighted to be hosting at Earthsong our friend and artist, Nic Moon, from Nelson. She is creating  an amazing indoor Earth Forest on the walls of the new Ranui Library currently under construction. Each day we marvel at the different phases of the project, starting from the gathering and mixing of local clays to make different coloured  paints, the hanging of giant stencils of tree trunks and roots from ceiling to the floor two storeys below, then cutting out parts of the stencil in preparation for community involvement.  On Saturday and Sunday 16-17 August over 400 locals came in to dip their hands in clay paint and make hand prints on the tree roots and trunks.   Nic and her helper Sue made the final touches, then peeled away the remaining stencil outlines to reveal these magnificent hand painted forest trees inspired by the kauri forests of the Waitakeres.  The final stage is the installation of Nic's sculptured shovels above the fireplace between the two stands of trees.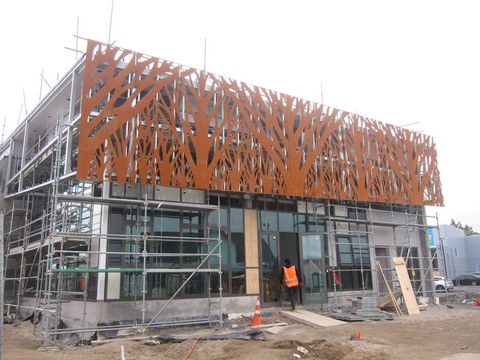 The forest canopy is being hung outside the building -sculpted corten steel panels designed by Nic in consultation with architect Lars von Minden of Jasmax.
Congratulations to Auckland City Council for funding these imaginative installations, and to Annalily van den Broeke, arts project manager for the Council. The whole Ranui community is looking forward to the new library opening on Saturday 4 October.