We met several interesting locals during our stay.  We visited Mata Arai in her coffee plantation, and then her home, where she showed us her hand processing of the beans and served us a pikelets with a brew of freshly ground coffee.
Birdman George (George Mateariki) took us through the bush to see rare birds the kura (Rimatara Lorikeet) and the kakerori (Rarotongan Flycatcher) and to talk about history and conservation on the island.  He provided a delicious feast of umu -cooked wild pork, chicken and taro, followed by pawpaw, banana, freshly grated coconut and lime, all served on mats hand-woven from coconut leaves.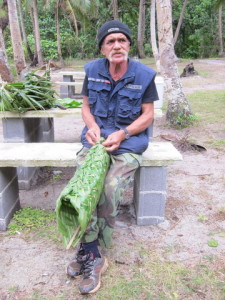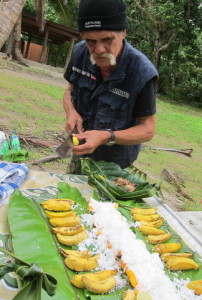 Birds were also the focus of Susana Saavedra's six weeks of work  on Atiu.  From the Canary Islands, she has been contracted to try and get rid of the last twentyIndian mynas from an invasive population reputed to be around 25,000.  These alien birds were imported for pest control but attacked local wildlife and birds instead.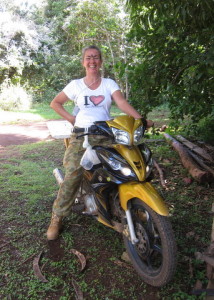 Finally, we were delighted to meet organic growers, Australian Jude  and her Atiuan husband Teaukura Isaia, both busy volunteering their time for the building of a new Mapumai Village community hall.  Jude sent us back to our villa with a much-appreciated bag of fresh salad vegetables.