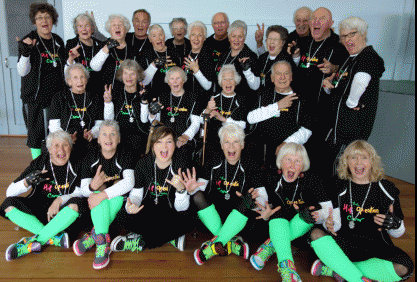 We've seen two wonderful films in the last month: Hip-Hoperation and Pride.
HIP-HOPERATION
Hip-Hoperation features women and men from 65 to 95, and young Otara people in a top New Zealand hip-hop group.  It also shows the relationship growing between young and old, first on the Otara group's visit to Waiheke and then in Las Vegas, where they both participated in the World Hip-Hop championships.
We came away uplifted by this sensitive story of elders having fun, respect and affection between old and young, insight into the extraordinary lives of some of the older women,  and a younger woman with the passion and drive to make the story happen.
See:   https://www.facebook.com/Thehipoperationcrew 
PRIDE
We hadn't known that a gay and lesbian group had supported Welsh miners during the terrible 1984 UK miner's strike against Margaret Thatcher's policies, and surprising relationships had developed as a result. An inspiring semi-documentary dealing with politics, homophobia, union struggles and celebration of diversity– another uplifting trip to the cinema!
(We must keep remembering not to tell young people we're going to the flicks – or the pictures – they just look blank!)