Tanya has been cycling weekly in the last month, and a fine Sunday last week tempted Charmaine to go with her to visit two lovely lakes near Ranui.  Both have been landscaped and planted creatively with native wetland species.
In addition to these two lakes nearby, another treasure in the West is the Twin Stream project involving Opanuku and Oratia streams and others.  This project has involved research, land restoration, the planting of a million native trees by thousands of local volunteers,  community development and employment, art and sculpture, evaluation and documentation.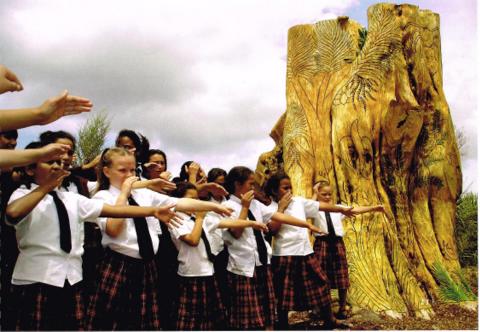 The results of the 11-year-old project are absolutely stunning.  It is worth every cent for the cleansing of the streams, the beauty created, and the empowering of the communities involved.
Paradise squandered; New Zealand's environmental asset stripping
was the title of the Bruce Jesson Lecture to a packed Maidment Theatre at the University of Auckland on Wednesday 15 October, by Dr Mike Joy.
We were absolutely shocked to hear from Mike Joy that the Government's proposed accord on water quality actually increases the levels of pollutants permitted in our precious waterways at present.

Some of the new limits are actually much higher than councils have previously allowed. For example, most councils have restricted nitrates in rivers to around 0.5 milligrams per litre. The new proposed limit is 6.9 milligrams – more than ten times as much. "The proposed bottom line is now higher than the Yangtze River in China and higher than the Mississippi River" said Mike Joy
There has been a sustained political and media campaign to silence Mike Joy (google his name and you can read both his research and some of the attacks on him.)
www.stuff.co.nz/business/…/Water-rule-changes-seen-as-licence-to-pollute
http://www.radionz.co.nz/news/national/256807/public-'misled'-over-river-quality
http://pundit.co.nz/content/mike-joy-answers-the-pm-with-hard-facts
Fortunately the Royal Society of New Zealand, hardly a hotbed of left-wing or anti-farming conspiracy, this year gave Mike Joy the Charles Fleming Award for Environmental Achievement, which enabled him to deliver his research-based lecture The demise of New Zealand's freshwaters: politics and science to every branch of the Royal Society in New Zealand.  Dr Mike Joy is New Zealand's foremost researcher on our fresh water systems. His lectures can be watched on-line, and his research read by anyone interested.
We'd better get on with developing new networks for political change, and new tactics too, if we are to insist on proper protection of our waterways, and substantial investment in restoration of those already damaged – almost all those outside National Parks.  Congratulations to those in the former Waitakere City who began this process in West Auckland more than ten years ago.