Every day we see strong women, creative women,  women changing the world for the better.   Almost every day we're also confronted with images of women demeaned or brutalised. So for International Women's Day, March 8, we are featuring some of the women we've seen this month.
The appalling…
Franklin Plumbing – which used to be a strong New Zealand firm – now feels it has to use a French artist's image of a woman being tortured- life-size, on the window facing the carpark of its Henderson store (and apparently on others around the country) to advertise baths.  And on its website – www.franklins.co.nz  – where, earlier in the month, there were other equally offensive images.  Let them know what you think.
(Charmaine did, and was told by the local store manager that "everything means different things to different people" and that he could see nothing wrong with the window images.  The CEO was equally dismissive, saying the Marmorin bath campaign was the work of a young emerging French artist, as though that excused it. But we do note that Franklin seem to have cleaned some offensive pictures off its website – but not the really gross one from which this cropped image is taken.  No change to the Marmorin bath slide shows or the huge window pictures in Henderson, though.)
SHAME, Marmorin Baths and Franklin Plumbing
(and, suddenly this morning – 18 March – SHAME on MICROSOFT for putting a deeply offensive picture of Chloe Sevigny on its Homepage – we don't care if she chooses to play with lobsters on her crutch in the privacy of her own home, but public pornography on a family Homepage is too much, and is Microsoft's responsibility…)
…the beautiful and the challenging…
On White Night, in the Auckland Arts Festival, we went from Black Bird, an exhibition of of Lonnie Hutchinson's beautiful and challenging works inside the Gus Fisher Gallery, to the steps outside, where her performance work "Can You See Me" was staged.  Gallery visitors watched two Pasifika women sit down, silent and still, and then be bound with packing tape by two other women.  We found the activity profoundly disturbing, not least because we didn't know whether we could- or should – intervene in some way.    Is this only an art work? if this were a real life situation, would I have the courage to stop it happening? why don't the bound women react?
Sticky tape is one kind of bond, easily removed.  What about male violence, cultural and religious oppression?  and the complicity of mothers and sisters, other women,  in binding women (uncomfortable clothes, toxic cosmetics, harmful shoes, conformity to male prejudices…)?  What about the silencing of women (by abuse, by exclusion from decision-making, by persistent portrayal in advertising of women as simpering fools, by poor education in speaking out..?)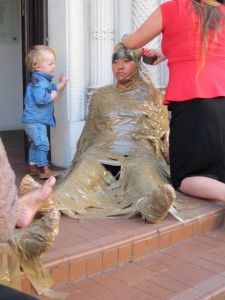 Did we do anything?  Yes, eventually.  The two of us couldn't stomach seeing women's faces covered in sticky tape, and their hands tied, so we moved forward and began to undo the tape, as gently as possible, speaking to the women to ensure we didn't injure them or interfere with their message or intentions…  And after a while a woman and a man from the crowd joined us.  Once their faces and hands were free, the women flung off the rest of the  tape, rolling it  into a ball.  But then they cradled the balls of tape, stroking them, as though mourning,  still alone, still silent, still…
This performance raised many issues about our own beliefs and behaviours, as well as about the treatment of women in our world.  We talked to Lonnie Hutchinson afterwards, and she said that no observer, before, has ever intervened.  But perhaps the messages about violence against women, and about the right (or duty) to interfere, are beginning to change audiences' behaviours …we certainly hope so.

Postscript: as we walked back to our carpark much later in the evening, a car slowed down at the lights opposite us, and a cheerful young woman called out "Hey, thanks for unbinding us!"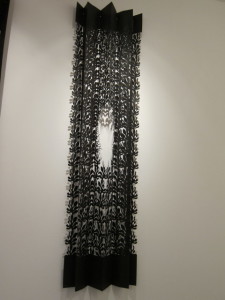 Lonnie Hutchinson has consistently and creatively challenged the oppression of women, especially Pasifika women.  Through her beautiful images cut from builders' paper, her drawings, and her wood carvings in the Auckland Art Gallery, she also uses patterns to suggest the interplay of light and shadow, space and time.  http://www.tautai.org/black-bird-lonnie-hutchinson-1997-2013-survey/
Don't miss her retrospective now on at the Gus Fisher Gallery in Shortland Street, Auckland CBD.