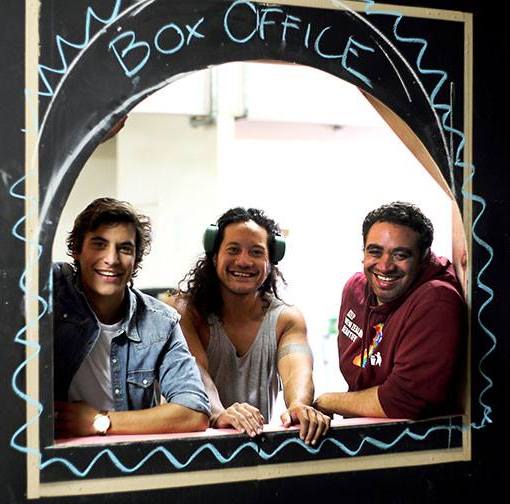 On Saturday we went to the opening of a new theatre in New Lynn – Te Pou, Aotearoa's first tikanga Maori theatre.  A most exciting evening, with performance excerpts from the last 50 years of Maori theatre.  The performances began with George Henare (singing It ain't necessarily so from Porgy and Bess).  Rachel House played a Maori kuia born in 1840, from Woman Far Walking.  Kura Forrester, who has just starred in Hikoi, played the young factory worker with Harley Davidson fantasies from Nga Pou Wahine…..and there were many other gems.  Kaumatua Rangimoana Taylor from Wellington gave a special blessing to the venture, and Raymond Hawthorne in the audience, from Theatre Corporate days in Auckland, was acknowledged as one of the guiding lights for many of the actors there too.
Thirty or more Maori and Pakeha theatre people have been working as volunteers since early March to get the theatre (called Whare-no-name at that stage) ready for its opening night – catch a glimpse of what was involved on this YouTube video:
https://www.youtube.com/watch?v=4PgRjV_gwrY&feature=player_embedded
Hear more from Tainui Tukiwaho and Gerald Urquhart , founders of the project:
http://www.radionz.co.nz/national/programmes/standing-room-only/20150419
and give your support if possible: Te Pou was still Te-Whare-No-Name when this appeal was launched, and needs $2000 within in two days to reach its pledge target:
https://www.kickstarter.com/projects/1902194044/whare-no-name-the-new-home-of-maori-theatre?ref=city
ps: Kura Forrester is about to do her own comedy show, Tiki Tour, at Q Theatre.  We're looking forward to this, as well as to the future shows at Te Pou.