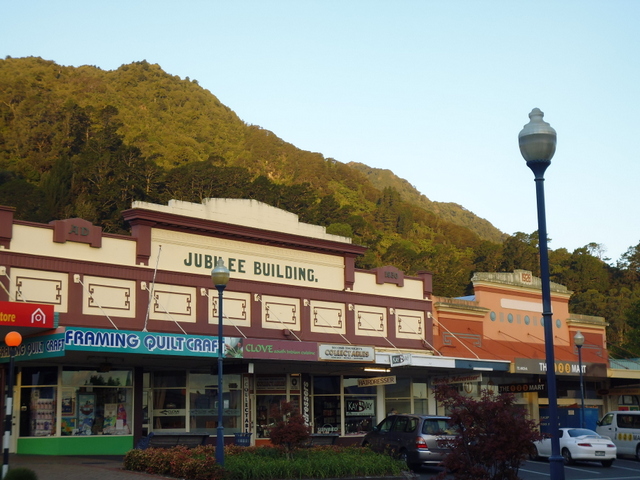 On our way to Heretaunga…
…we stopped at Te Aroha in order to ride a part of the Hauraki Cycle Trail, currently running from Thames to Waihi via the Karangahake Gorge, with a branch to Te Aroha.
(see http://www.haurakirailtrail.co.nz/ for information about this family-friendly cycle trail).
Te Aroha  is an attractive Art Deco township with hot pools, a fine organic shop and café,  and an easy ride or drive to any part of the trail. We set off early on a Saturday morning to cycle the section of the trail from  Karangakake Gorge to  Waikino Railway Station and back.
It's a pleasant, diverse ride through farmland, native forest, historic gold-mining relics, and a fine café at the historic Waikino Railway Station offers a welcome reward for exertions.
But one warning: make sure you have a really strong headlamp on your bike if you're riding through the Karangahake tunnel-especially if you're getting older!

(Charmaine sported  spectacular bruises for a week or two from a few tumbles.

Tanya, as you can see, emerged relatively unscathed!)
On our way home from Heretaunga via Taupo…
…we decided to leave State Highway One and travel from Atiamuri through Benneydale to Te Kuiti.
To our delight, in Benneydale we found The Wooden Heart Café. The food is creative and delicious, the coffee great, and the staff a staunch team of women who've transformed the old pub into  this excellent stopover:
https://www.facebook.com/woodenheartcafebenneydale.
If you're cycling or walking the Timber Trail, you might also like an overnighter with French cuisine at Artdoc Gallery :