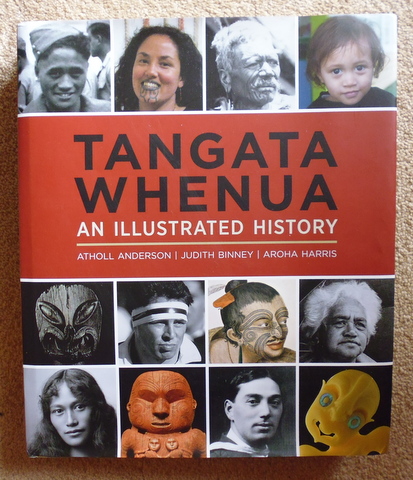 TANGATA WHENUA: An Illustrated History…
 …a superb book, beautifully produced. This is a landmark publication.  It was written by  Athol Anderson and Aroha Harris, both Maori scholars,  and the late Dame Judith Binney, a Pakeha scholar, all three highly respected by Maori and Pakeha alike for their research skills and insight.
These are the comments of the judges who have awarded the book the prestigious Royal Society Science Book Prize:
The judges, Professor Jean Fleming, Professor Ken Strongman and Dr Rebecca Priestley, said the book "brings together physical sciences, social sciences and the humanities in a dazzling work of scholarship".

In addition to being a history, it is based on research on genetics and climate science as well as:

archaeology (the study of past human activity through material left behind by human populations)

anthropology (study of human society)

ethnography (study of culture)

paleoecology (study of past ecosystems or environments, reconstructed from fossils).

"It draws on these disciplines to tell the stories of the Māori people, their origins, their journeys to find this country and their stories in Aotearoa New Zealand. 

"This beautifully published book has a broad public appeal and will be read widely by New Zealanders keen to discover who we are and where we come from."
http://www.royalsociety.org.nz/2015/05/15/tangata-whenua-wins-royal-society-of-new-zealand-science-book-prize/
Congratulations especially also to Bridget Williams for her ongoing support (for the seven years of the book's development!) and her passion for continuing to commission and publish outstanding Aotearoa books.