We had an unexpected opportunity in late April to visit the Gibbs Farm Park in Kaukapakapa, north of Auckland.
On earlier journeys we'd glimpsed from the road Bernar Venet's corten steel cluster (called 88.5° ARC x8)
but were even more impressed by Neil Dawson's beautiful Horizons and Maririjke de Goey's The Mermaid, above…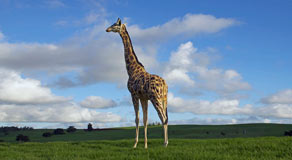 Interesting to catch a glimpse of live giraffes in an enclosure near Jeff Thompson's giant corrugated iron and steel Giraffe.  We understand Alan Gibbs has a zoo licence and plans to bring in monkeys, as well,  to add to the zebras, emus, water buffalo and giraffes there already.
As we left, sharing critical remarks about better uses for the money invested in this especially-for the-boys playground (only 3 works by women and 24 by men), we met one of the young Ngaati Whatua ki Kaipara  staff, who talked with enthusiasm about Gibbs's staff employment and training practices, and his support for local families and marae.
Later, while enjoying home-baked goodies and fun mosaics at the Ginger Crunch Station Café in the historic Helensville Train Station, we heard lots of positive comments about Gibbs's generosity in offering free visits to busloads of fundraising groups for good causes.
When we googled Gibbs Farm later to check some facts, we were struck by the very next alphabetical google entry: Gibbs Farm: An Archaeological Study of Rural Capitalism and Material Life and wondered what, in even one hundred years time, archaeologists would make of this extraordinary place, regarded by some as the finest sculpture park in the world.
While deeply admiring the engineering skills of the sculptors, and the beauty of some sculptures, and enjoying a day's stroll in such an exotic setting (imagine mowing lawns this size!) we remain, as you can tell, ambivalent…