A couple of interesting discoveries on the way home from National Park..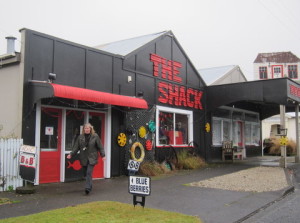 In Owhango, a pair of pensioners having a cuppa in a shop window caught our eye, so we stopped to inspect them more closely – a cleverly crafted quilted couple…and just as Tanya was about to snap a photo, the owner of The Shack, a Blueberry Farm and a very popular B and B emerged, and we heard the history of her enterprising activities and events .
While looking for a mechanic in a back street of Ngaruawahia, we caught a glimpse through trees of a huge gleaming steel and marble sculpture opposite Turangawaewae House.