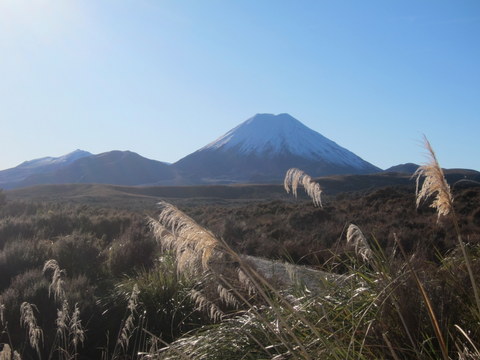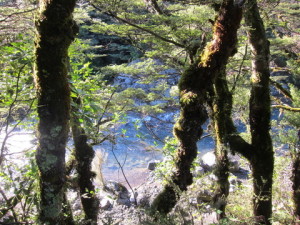 We 've just had an invigorating break in the dramatic Tongariro National Park in the Central North Island.
We enjoyed the icy air and  rosy snow-capped mountains at dusk on our first day,  exploring the mounds on the plateau left by an ancient avalanche, a drive up to Scoria Flat on the rocky volcanic slopes of Ruapehu, misty bush walks beside tumbling mountain streams.
We also had a good soak in a mineral pool at Tokaanu after  a stroll through the natural thermal area there.
All of us New Zealanders can be deeply grateful to Horonuku Te Heuheu Tukino, who saw how land was being alienated all over the country, in spite of the Treaty of Waitangi, and gifted the sacred mountain peaks to the peoples of New Zealand to ensure the protection of this precious land for all time, for all people.

And we can be glad that we have had governments in the past who valued conservation,  saw the importance of the land around the mountains, and extended the park by 1980 to its present area – 795.98 square kilometres.  In 1990 it became a UNESCO world Heritage Site for both its natural and its cultural values.
We learnt a lot about the geology and the  history of the area at the excellent DOC centre at Whakapapa Village. For instance, we found out that Ngauruhoe is actually one of the vents of Tongariro, not a separate volcano.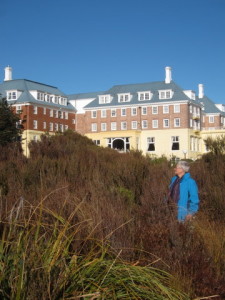 We also discovered some interesting facts about the stately Chateau Tongariro, on the slopes of Ruapehu.  It has had a rather chequered history. It was built by Fletcher Construction in 1929, completed in less than a year, went into liquidation two years later, languished for a while, was taken over by the government and became popular among the rich and famous, was commandeered during the second World War as an asylum for women, was refurbished and reopened as a resort in 1948, and eventually sold to a Malaysian conglomerate (along with the Wairakei Resort) in 1990.  It has retained much of the old-world charm as well as being extended and modernised, and has an international staff (hardly any from Aotearoa).
However, it's the land, the wonderful Tongariro National Park, that is the real attraction.