Sites…
 Heirloom Organics is a wonderful seedling nursery at 951 Coatesville Road, just north of Riverhead Village, open on Fridays and Saturdays.
We are especially enjoying our spring visits to choose from their very wide range of herb, flower and vegetable seedlings (including the healthiest tomato plants we've ever seen), all sturdy and happy, and at  very reasonable prices. The nursery itself smells so lovely – chemical-free and gently leafy- and the owners, Rob and Murray, and colleague Liz, are friendly, knowledgeable and helpful. We're encouraging Earthsong gardeners – and other friends – to go there for spring plants – you won't be sorry.
You can visit good cafes while you are up there too: we alternate between Blossoms, at 1404 Coatesville Riverhead Hwy, (right next to Boric's Food Market, on the corner of the main Kumeu-Helensville Highway) and Kauri Gum Store and Café, 22 School Road, Riverhead.
Rob also contributes to a very practical weekly garden blog at www.organicediblegarden.co.nz – a new helpful hint and demonstration every Friday.
Sights and scents…
The ti kouka (cabbage tree) flowering just outside our bedroom window…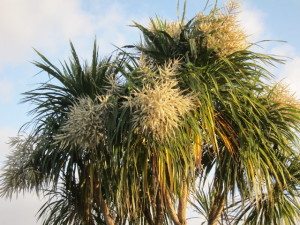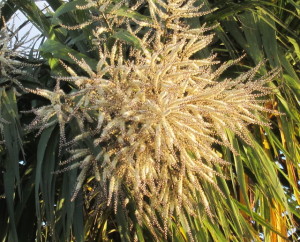 ..and the harakeke  (flax) flowers reaching skyward for summer…