We have an exciting new project – helping to raise funds for a ukulele-making workshop and training centre in Poutasi, on the south-east coast of Upolu, Samoa.  This village was destroyed by the 2009 tsunami, partially rebuilt, and then severely damaged again by the 2012 cyclone. And it is moving forward in dynamic ways.
The Ukulele Project
This may sound an improbable project for the two of us – neither of us plays a ukulele, or other musical instrument for that matter. But we are inspired by the plan to establish this workshop in Poutasi.
John Hewitt of Mount Roskill, Auckland, known for the quality of his ukulele and guitars, is selling his business.  The Hewitt family has been in the business of making and selling stringed instruments for over 100 years, and although the shop and importing business has now been sold, John has offered his specialised instrument-making workshop equipment to his friend Tuatagaloa Joe Annandale for Poutasi at a reasonable price.  John's very special craftsman in recent years, Bernard Christopher Ha, originally from Korea, has visited Poutasi and is keen to move there to help train young people from the village and surrounding area.
We heard about the project from Tuatagaloa Joe Annandale when we were staying at Sinalei Resort in August. Joe has a passion for music, is a talented ukulele player himself, and teaches a weekly ukulele class at his home in Poutasi with many young people attending enthusiastically.  As he says in this moving article, written shortly after the tsunami, there is "a ukulele revolution" taking place. http://pacific.scoop.co.nz/2010/10/paramount-chief-welcomes-new-life-and-fresh-hope/
As well as making ukulele to meet Samoan demand, Bernard will train locals to design and make instruments for visitors and tourists, using local timbers like ifelele, to be sold through the Poutasi Arts and Crafts Centre and in time through other Samoan arts and tourist outlets. One of their specialties may be a traditonal ukulele made with large coconut shells.
Bernard will train any interested women and men, and the women we spoke to at the Arts and Crafts centre are very enthusiastic about the project.
We have visited the Mount Roskill workshop, met Bernard, and seen the equipment concerned and the amazing ukuleles he makes, using all kinds of timber, some inlaid with paua and mother-of-pearl.  And what lovely sounds they make!
We personally feel that we'd like to support the people of a Samoan village taking courageous action to recover from disasters and move forward in very creative and productive ways.  We admire the contribution Samoan people make here in Aotearoa, and this is a way of contributing to some of their families at home.  Joe's "Ukulele Revolution" is also an exciting way to recycle much of the special equipment John Hewitt no longer needs, to use the beautiful skills of Bernard Ha, and to create new employment opportunities for young people.
Costs
It will cost an estimated $20,000 to purchase the selected equipment.    We have contributed ourselves, and so has the New Zealand High Commission in Samoa; so far, $15,000 has been raised. We have offered to help raise the remaining $5000.  Joe and his partner Tammy will be seeking funds for the relocation of equipment from Auckland to Poutasi and other costs, and the Poutasi Development Trust will manage and continue to support the project.
Further information about the Poutasi Development Trust
While we were at Sinalei, Joe invited us to visit two well-established projects supported by the Poutasi Development Trust (PDT) in Poutasi, near Sinalei Resort.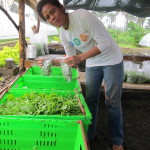 The PDT Farm – eight large tunnel houses, with 100 vegetable beds- is now (with neighbouring farmers) producing quality fresh green vegetables for many resorts and restaurants on the island, and planning to become organic. It is currently developing hydroponic production as well.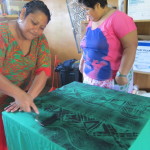 The PDT Arts and Crafts Centre is printing beautiful lavalavas and other clothing, from blocks designed by well-known artist Fatu Feu'u, as well as making other fabric and woven products, and serving Samoan- grown coffee and cocoa.     The PDT was established with assistance from the NZ Government after the 2009 tsunami to assist in building new houses for the village on a higher plateau, and has established a Public Library in Poutasi in addition to the two projects we visited. It is currently contributing to the building of a new school for the village (classes are still being held in various fale scattered around Poutasi and nearby villages). We are very impressed by the commitment and quality of the work completed by the PDT so far, and this unique opportunity to support a creative new project.
Another item of interest
An article from the Samoa Observer in May 2015 about the opening of the Poutasi Arts and Crafts Centre and the Public Library
The Poutasi Development Trust, villagers and their supporters celebrated the opening of two new projects yesterday.Held at Poutasi Falealili, the projects were the opening of an Art Centre and the Public Library. It cost close to $80,000. Paramount Chief, Tuatagaloa Joe Annandale, said the projects is the realisation of a dream to empower the people of Falealili. He said the developments will not only benefit the people of Poutasi, it will also help Falealili and the nearby constituencies. "Today is a blessing for the Poutasi Art Centre and Poutasi Public Library," Tuatagaloa said. "The government with the help of the schools committee of Falealili decided to relocate the primary school up on higher ground after the tsunami and left this whole area to be rebuilt." He said among the many people who offered to help was the Rotary Club. Yesterday, Tuatagaloa acknowledged the assistance from Rotary. "This morning we are so grateful to all of you across the board," said Tuatagaloa, acknowledging Rotary, the New Zealand High Commission's Office as well as Volunteers Abroad. He also acknowledged the hard work of the Civil Society Support Programme (C.S.S.P). "The Poutasi Development Trust is about doing these sort of things and more to empower our people with new skills, to give them the chance to earn and then come back and be proud of their achievements," Tuatagaloa concluded.