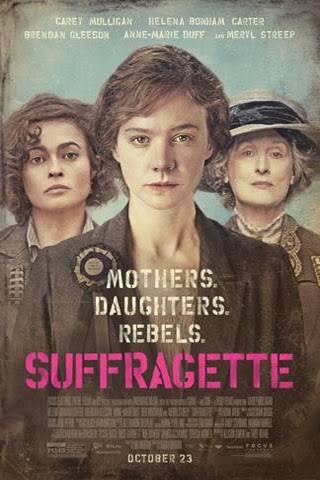 We've just seen an outstanding, gut-wrenching film, Suffragette.  If it comes your way, don't miss it.
It was shown as a fundraiser for the Auckland Women's Centre on Sunday 15th November.  It's a profoundly important film, reminding us in the most visceral way of the hatred still shown in much of the world towards women who seek equality.  It  shows the hideous working conditions in late Victorian and Edwardian England- only a century ago- and still widespread in other parts of the world.
In New Zealand, women won the vote in 1893, with support from just over half the members of parliament (all male).  Their struggle had begun in 1869.  In England, however, the struggle for women to vote went on much longer, with politicians, business men and the male owners of newspapers conspiring to ignore women's polite requests to share this basic right.  Inevitably, some suffragettes resorted to stronger action than speeches, submissions and protest marches- bombs in public post boxes, bricks through windows, and the burning down of a politician's empty house.  Police reaction was appallingly violent, involving attacks on women with batons, mowing marchers down under horses' hooves, imprisonment, and force feeding of hunger strikers.  The struggle for women to vote was not won in the UK until 1928…
Suffragette honours the courage of our foremothers, both the leaders we've all heard of, like Emmeline Pankhurst, and women pushed by male violence into supporting the cause, sometimes unwillingly at first, with acts of bravery and desperation.
ps: another screening coming up in Auckland:
SUFFRAGETTE FILM SCREENING
Rialto, Newmarket Thursday Dec 3rd 6.45pm
If you would like to attend it is a case of first come-first served. 
Essential to book at events@eeotrust.org.nz
$5 – pay on the night.
Any profit to go to support Women's Empowerment Principles in New Zealand.