We had a week in Dunedin last month – and managed to find all the ingredients of a fine holiday: catching up with family and friends, lesbian company, cultural activities, conservation projects, and a political visit.
We stayed the first night with former Aucklander, Pleasance, in her hilltop villa, and joined a monthly dinner group of Dunedin lesbians.  Ann Charlotte, whom we met there, took us afterwards for a walking tour of downtown Dunedin street art …all manner of beautiful and bizarre images painted up walls and down alleys. The Port Precinct will never be the same..
Orokonui Eco-Sanctuary
A visit to the Orokonui Eco-Sanctuary was a delight.  It's a 307ha conservation project with predator-proof fence, an excellent visitors' centre and café, and  copious birdsong, especially korimako (bellbirds) and tui.  The Otago skinks were prolific, sunning themselves on rocks below the Kai Tahu kaitiaki sculpture.  We also saw one of the tuatara, just emerged from hibernation, and a scuttling  takahe, as well as many rare plants.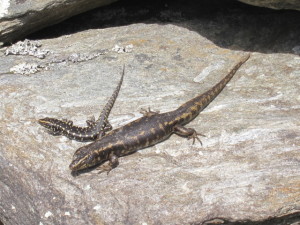 Kai Tahu Hui-A-Iwi
Kai Tahu were having their three-day biennial Hui-a-Iwi in the Dunedin Town Hall and surrounds, and on the Saturday welcomed the public to their exhibitions and activities.  We were very impressed by their strong education and business focus, and by the wonderful art and fashion exhibits – especially the amazing "colonial steam punk" garments created from recycled materials.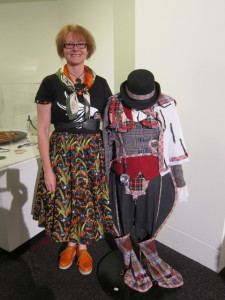 Another highlight was an evening concert with several outstanding young Kai Tahu singers plus Maisey Rika, Ria Hall, Troy Kingi and Rob Ruha.
Otakou Peninsula…
Visiting Tanya's cousin Dale and Dale's daughter Amelia at MacAndrew Bay  enabled us to explore the Otakou Peninsula.
 Karitane Visit
One of our reasons for coming to Dunedin was to catch up with Chris Hull, formerly one of our team at earthtalk@awhitu.  She came in from her home in Karitane to the Open Day at the Hui-a-Iwi to meet us, with her daughter Willoughby, who also worked with us for a while at earthtalk and is now employed in Dunedin at the Otago University hotel where we were staying.
Later in the week we went to Karitane, on the coast north of Dunedin, to spend time with Chris  and explore the environment, and visit some of her special places and people there.
Politics of Peace….
Charmaine went to the National Centre for Peace and Conflict Resolution Studies at the University of Otago, and enjoyed meeting Richard Jackson, Acting Director, whose blogs on terrorism bring  sanity and compassion to the subject, and remind us that the more just our society, the less likely we are to breed our own terrorists:
https://richardjacksonterrorismblog.wordpress.com/
Dunedin Scenes…
We were particularly pleased to see Robbi Burns appropriately cloaked

for St Andrew's Day and the Kai Tahu Hui-A-Iwi