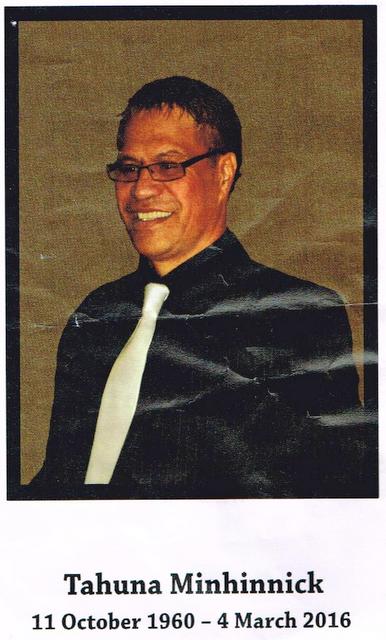 We are also mourning the sudden death of Tahuna Minhinnick, aged only 56.  We have known Tahuna and his family from Ngaati Te Ata Waiohua for almost thirty years, and worked with them during our 22 years on the Awhitu Peninsula.  Tahuna Minhinnick's death is a tragic loss to his whanau and his iwi.  The son of Kahurangi Nganeko and Matua Eden Minhinnick, Tahuna has become a visionary leader in the iwi.
We met Tahuna when he returned from Australia in his early twenties determined to set up the first anti-smoking campaign and strategy for marae in Aotearoa, and to build a health centre and gym on his home marae, Tahuna ki Waiuku.  He achieved both, and much more.

We have continued to admire his vision, passion, energy and courage – and his absolute dedication and perseverance in the face of opposition until he achieved his goals for the iwi.

Tahuna's enthusiasm for personal fitness and participation in exercise and sports make it particularly sad that he should be taken from his people so young. Our Pakeha whaea Joan Macdonald, elder of Auckland Treaty workers, summed up our thoughts and feelings when we heard the tragic news of his sudden death. With deep anger and sorrow, she said, "Another victim of colonisation…" And he is – the stresses he has experienced trying to fight for his iwi, and for the broader issues of Maori health and respect for sacred land, will certainly have contributed to his premature death.
Our hearts ache for Kahurangi Nganeko, Tahuna's mother, his siblings Riki, Moea, Roimata, Piritania and Awa, and we feel a special grief too for his wife Lisa and their children Atea, Ngaiwi and Brian Kahukoka, and for all the other members of his wider family.
E Tahuna, e kore koe e warewaretia, ka nui te aroha mou.
Moe mai, e te rangatira, moe mai ra.