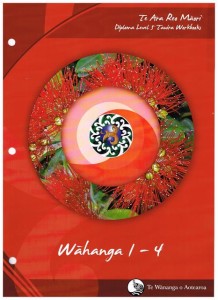 Both of us love watching Maori Television.  The channel offers more local content than any other (82% compared with 51 per cent for TV One and 50 per cent of TV3's prime time hours, less on other channels) and the largest number of documentaries-  555 hours in the last year.  And although many programmes in te reo are sub-titled in English, we have been very aware of our inadequacies in te reo.
Tanya has taken a big step this year into Te Ara Reo Maori Level 5 at Te Wananga o Aotearoa, Waitakere Campus- 5 minutes away- which offers two three-hour classes per week (with up to 30 hours per week of homework encouraged!) plus four full-day and two weekend wananga as well.  She is finding it very challenging and exciting, and has made some new friends doing the same course who get together weekly to korero Maori.
Tanya is very impressed with Te Wananga o Aotearoa courses.  Their learning philosophy, their passionate teachers and their prolific resources create a very safe and stimulating environment for learning.  And the courses are free for everyone, too.