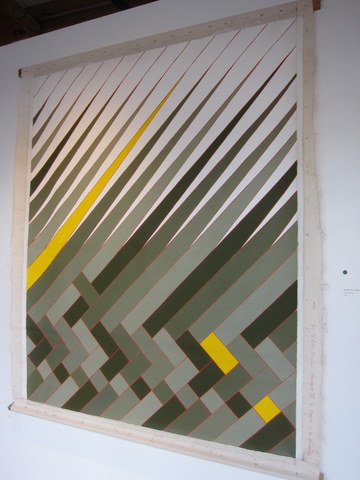 Toi Te Rito Maihi, one of our favourite artists, is having a retrospective exhibition at Village Arts Gallery  in Kohukohu until 26 June, so we decided to spend a few days in the Hokianga.
Her exhibition is inspiring – she is so talented in many different media- drawing, writing,  poetry, painting, print-making and , of course, weaving in all kinds of materials: korari, pingao, kuta, seaweed, plastic, paper …
In her 80th year, Toi is as passionate and creative as ever.
And congratulations to Village Arts for their skilful display of her works, and their manaakitanga.
We stayed at Heather Randerson's coastal B and B, surrounded by her beautiful landscape photographs, and enjoyed an evening with Toi, Heather and Maureen Lander, having dinner at Maureen's place.  (Maureen had just returned from two weeks in Guam at the Pacific Indigenous Arts Festival as one of Aotearoa's  hundred-strong representatives.)
Such a privilege to be in the company of three such outstanding Maori artists.
Their work should earn them  special joint exhibitions in New Zealand's top galleries.  And, of course, recognition with residencies and awards to enable them to continue their amazing work.