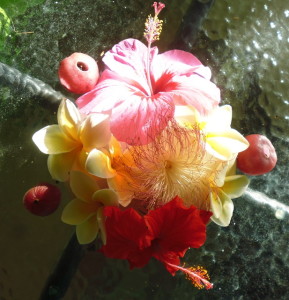 Three months ago, we booked a trip to Tonga, to coincide with Tanya's break from Te Ara Reo classes, and the worst of cold wet of winter, we hoped.
So here we are, after a very busy time for Tanya of te reo practice and assessments, for Charmaine of paperwork for community groups, and for both of us of Matariki community activities and creative events.
Glimpses of a few days on Tongatapu…
Seeing, as we fly in, a low green coral island, fringed by coconut palms and surf…a patchwork of plantations, geometrically divided by white roads…
Hearing about current political issues as we drive to Blue Banana Studios, because  Tanya asks our host Shane about a newsletter headed "People's Petition" in the car; he describes attempts by the Tongan Heritage Society and its many supporters to make the Government stop developers bulldozing and building on a salt marsh in a deeply historic area…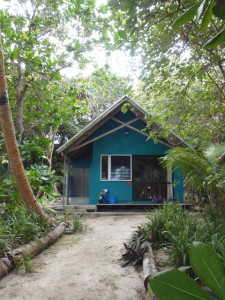 …settling into our cute cottage, "Fale Maui", beneath tropical trees, and overlooking the beach, the lagoon and the surf on the reef
…enjoying a lively cultural evening at nearby Liku'aloha Resort, a dynamic and colourful dance group, a generous traditional Tongan buffet meal and an audience of 200, mainly of Tongan family groups celebrating birthdays or reunions
…being startled by the sight of a whale just outside the reef on our first morning – first the white spout, then the shiny black flukes of the huge tail and the shadowy long shape near the surface
…breakfasting on freshly picked pawpaw and banana with grated coconut, on the deck above the beach, watching a dozen surfies outside the reef, and hoping for more whales…
…swimming and snorkeling among tiny vivid fish- electric blue and gold, turquoise, black and white striped, orange, pink…winding around lanes of white sand or coloured coral fragments, lined with purple and yellow blooms of live coral, forests of sea plants…
…appreciating the fresh tuna and mahimahi with relishes delivered by Chris for us to make delicious dinners, and Shane's books on Tongan history, botany and language.
…attending Sunday's service at the Wesleyan church in Kanokupolu Village, with magnificent singing by the whole congregation, and a choir performance of Verdi's "Chorus of the Hebrew Slaves"…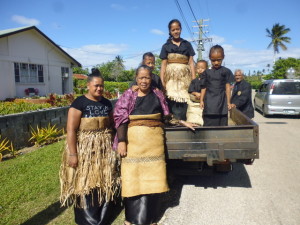 …resting, reading, sleeping deeply, soothed by the sound of the surf…
When we return home in the weekend we'll put up some of Tanya's photos and some more reflections on Tonga.