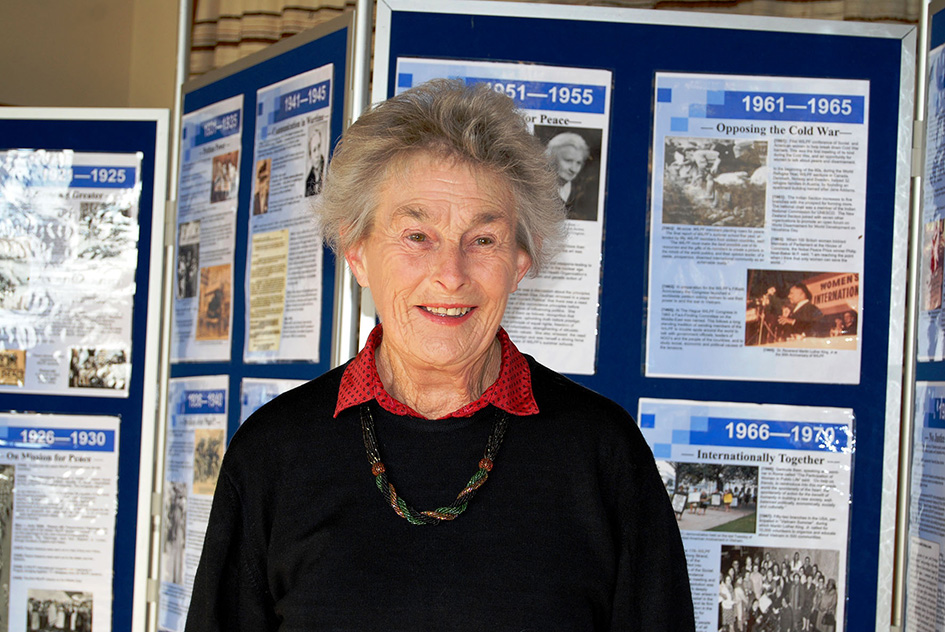 For the last month we have known that a dear friend, Joan Macdonald, was dying. We saw her on the morning of Friday 12 August. She was sleeping deeply; we talked quietly to her, saying our goodbyes, and spent some time with her daughter Beth before we left. Joan died that night, peacefully. On Friday 19 we attended a celebration of Joan's life in the Conference Centre at Mahurehure Cultural Marae in Point Chevalier.
Joan was one of the most remarkable women we have been privileged to know. When she was a Plunket nurse in the 1980s she met some of the Maori nurses fighting for change within the Plunket service and nursing in general, and became committed to rangatiratanga –the right of Maori to self-determination.
She became a passionate advocate for honouring Te Tiriti o Waitangi, for social justice in all spheres of life, and for peace in international affairs.
As the wife of David, who became a successful commercial lawyer and partner in a top firm, she could have led a life of leisure, whiling away her days with hobbies and travel. Instead, she became an activist in every sense. She took on responsibilities in a number of organisations  and took part in many protest activities, from asking questions at shareholders' meetings to public marches and boycotts. She provided financial support for individuals and groups, maintained email lists, chaired meetings, held placards and wrote letters, seemingly tirelessly, for the next thirty years.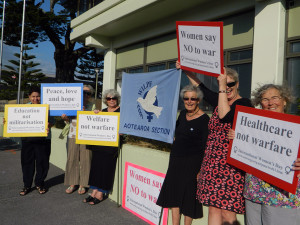 An elegant and respectable-looking Ponsonby matron, but with with a deeply radical political analysis, she was able to present her views in any setting, always courteously but without compromise, often to the shock of the suited brigade in corporate settings.
Joan was the caring mother of three and grandmother of six. Her loving husband David, who supported her right to participate in all her social justice activities, developed dementia after retirement, and eventually had to go into supported care. For the last three years of his life Joan visited him every day to give him his lunch. She also cared for frail friends and neighbours. We marvel at how much Joan achieved in the course of her daily life.
We supported many of the same causes as Joan, and when we moved back into Auckland we were able to spend more time with her socially. Each time we thought of going to an interesting piece of theatre – particularly with a focus on women, Maori or Pasifika lives – or a good film we rang Joan and asked her to join us, which she almost always did, until a couple of months ago. She was such good company, with her sense of humour and her perceptive comments; we shall miss her deeply.
We honour Joan's indefatigable efforts to make individual lives more comfortable,
…iwi and community groups more successful,
…Aotearoa a better country,
…and the world a better place for us all.
Joan will continue to be an inspiration to many of us, and a companion in spirit, as we continue to work towards a fairer, kinder world.
See also:
www.wilpf.org.nz/joan-macdonald
https://www.facebook.com/PeaceMovementAotearoa/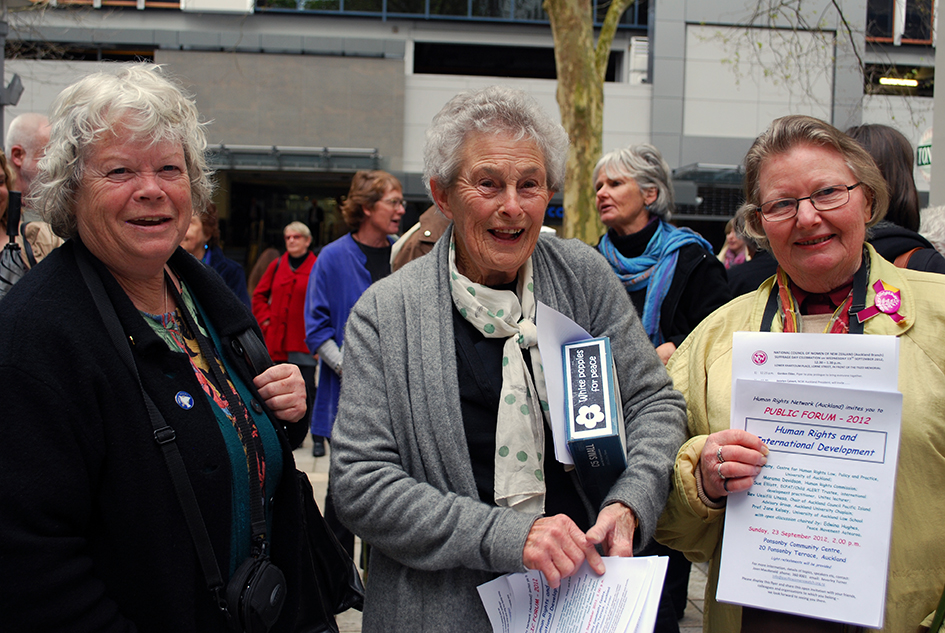 Thanks to Women's International League for Peace and Freedom (NZ) for pictures of Joan and friends, from their website as above.