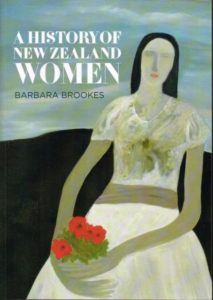 All four sessions we went to at the exciting annual Going West (Books + Writers Festival)  in the Titirangi Hall last Sunday morning were stimulating.
Barbara Brookes talked about the writing of her recently published A History of New Zealand Women, a wonderfully inclusive and thoughtful work, turning many common ideas about  our nation's story (especially regarding women's roles – and the absence of them)  inside out.
Sue Orr and Helen Margaret Waaka read from their novels of small-town and rural New Zealand, showing that although there's a dark side to their stories there is also light and hope.
A panel of leading journalists shared their view on the changing landscape of journalism and the media (Giovanni Tiso, Simon Wilson, Paula Penfold, Sara Vui-Talitu)- and remain anxious… but hopeful….
Four migrant women writers from Rene Liang's New Kiwi Women Write workshops read to us from their latest work: Gloria Poupard-Walbridge, Katerina Patitsas, Amelia Homs Ferrer….and Himali McInnes, whose prose-poem, inspired by her visits to Tiritiri Matangi Island, enchanted us.
( https://www.earthtalk.co.nz/wp-admin/post.php?post=2966&action=edit  )
Himali writes from an inside-out perspective : and she has given us permission to print it in full: see The Bird Watchers