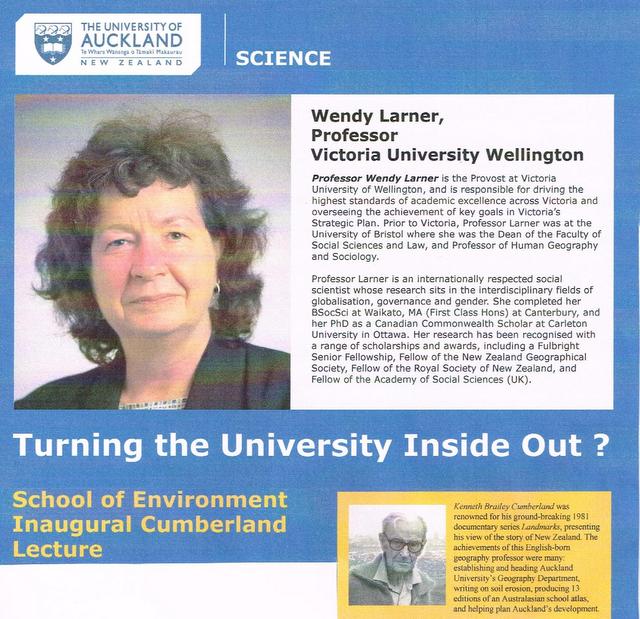 We were delighted recently to be invited to the inaugural Cumberland lecture at the University of Auckland on Thursday 15 September – especially as it was on this provocative topic, and to be given by an outstanding woman –  Professor Wendy Larner, Provost at Victoria University, Wellington, .
1n 1946 Dr Kenneth Cumberland moved from Christchurch to Auckland to establish the first department of geography at the Auckland University College (then a college of the University of New Zealand).  The department has recently become part of the School of Environment, which has decided to celebrate geography, and Kenneth's contribution to the subject and the community, by establishing an annual lecture in his name.
And what an exciting lecture it was, too! Professor Larner noted the influence of  neoliberal political and economic thinking, which puts university academics under pressure to form relationships with corporate interests in business and government in order to gain research funding. There are clear dangers in this for the survival of impartial  research and the quest for new knowledge.  However, Professor Larner pointed out that there were also good reasons for academics to form new kinds of research partnerships if they want their research to be truly related to the needs of communities.
She also talked about the existence of a new class of "intermediaries" –  mainly women- who planned, negotiated and supported these new kinds of relationships, often with precarious work contracts and lower remuneration, of course, than conventional university  staff.
Much of her lecture, however,  was about the positive ways in which the growing strength of women and of Maori (and of other indigenous and marginalised groups throughout the world) have enabled (or compelled) universities to change some of their ways of conducting research, and their pedagogy, towards "co-production" – inclusion of non-academic individuals and community groups in participatory research and presentations which, as a result, have real  impact on society through the empowerment of the participants.
Those of us who have found some aspects of universities alienating and, indeed, of questionable value, can be assured these positive changes, which have been underway for many years, continue to make for better teaching, learning, research, and for positive developments  in the world as a result.
Professor Larner reflected on Professor Kenneth Cumberland's commitment to useful research for the public good, and his willingness to use modern media for presentation, as examples of the relevance of his work to these developments.  In particular, she reminded us, he chose to participate in the  influential Landmarks series on Television NZ, which was the first documentary series on New Zealand's story to reach a wide public audience (45% of adult viewers when it was  shown in the early 1980s), and to write  the popular publication which followed it.
(After the lecture, a staff member who had been teaching at an Auckland secondary school told us that he had shown the Landmarks series to his students, and they were, in his words, "totally transfixed" !)
Great to hear a lecture that was academic, powerfully delivered, and mercifully free of the post-modern jargon that too often infects academic language!!
event-poster-science-cumberland_larner-2016_4