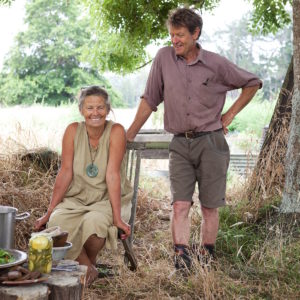 We've known Kay Baxter and Bob Corker for more than 25 years.  They did design plans for our land at Awhitu, and our orchards were planted with Kay's recommended varieties of heritage deciduous and subtropical plants.  We have a huge respect for their work over the years.  So we decided to go to an Open Day at Kotare Village near Wairoa, where for more than five years they have been working to establish a Public Land Trust community, as well as to maintain the work of the Koanga Institute.
Kotare Village is in a valley on the inland road between Gisborne and Wairoa.  Already it is an inspiring place: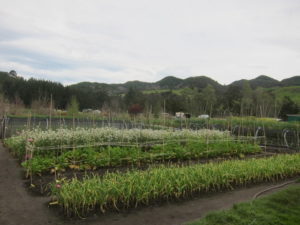 "Kotare Village is a self-reliant eco-village based on permaculture principles in rural New Zealand's Northern Hawke's Bay.
It will be home for 30 families and the Koanga Institute's Centre for Regenerative Living. We are currently looking for like-minded people who want to support a shared dream of embracing a regenerative future through independent village living, local economies and co-evolution."
We were glad to talk with Kay and Bob again, and see  their productive gardens.  Of special interest to city-dwellers is their model urban garden – 200 sq metres – bordered by  espaliered fruit trees, with  the familiar poultry shed and densely-planted productive vegetable and herb bed.  But the tiered cages of rabbits and guinea pigs for manure, food and fur were unexpected as  were  the Soldier Fly farm and the wicking beds under shelter.  The quality and size of the celery in the wicking  beds was particularly stunning – no rust here!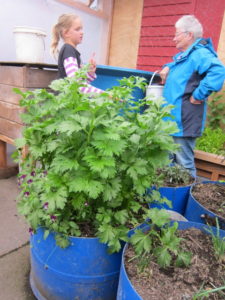 (http://www.resilience.org/stories/2011-05-31/bottom-diy-guide-wicking-beds#)
There are at present  15 people living in Kotare Village, including Kay and Bob's son Taiamai with his partner and children, and the leader for our group's guided tour, Sheked, from Israel,  his partner Tes and their little Geshem.
At present the land is dotted with tents and housetrucks, surrounded by food gardens, and the aim is that each family will build their own small eco-friendly house in due course.
See www.kotarevillage.org.nz for more information.