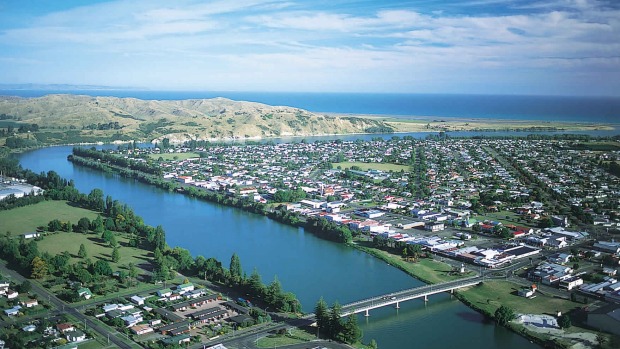 Te Wairoa itself has all the charm to be a thriving town.  The shops and cafes stretch along the edge of the river, colourful and cared-for.  Houses are plentiful – and unbelievably cheap, around $100,000 for a modest bungalow .   But there aren't enough paying jobs.  The Wairoa Freezing Works, once a major thriving employer in the district,  are owned by Talley's, which is not known for its pro-worker policies –  it locked out a large number of staff for five months last year:
http://www.stuff.co.nz/business/farming/beef/76985888/Affco-Talleys-meatworkers-in-Wairoa-to-return-to-work-after-five-months
What's needed is someone to set up an innovative environmentally-friendly sustainable business employing hundred s – or, better still, people offering a couple of dozen new small businesses and social enterprises  with creativity and community commitment.
The houses are available, the river offers whitebait in season,  kayaking and waka ama.  The services include the excellent Eastend Café, and the 110-year-old, and very popular, Ostler's Bakery.  The Vista Motel  was welcoming, well-serviced and low-cost motel, and there are more than a dozen  flourishing marae.  We especially appreciated the young Maori woman in the i-site – Kimberley Jones- who was one of the best –informed and most enthusiastic staff we've met anywhere.  And we're told the museum is excellent too  (the men in the Frasertown Pub said so too) – but unfortunately shut on Mondays.
We  talked  with an Irish doctor who was preparing for her daily swim in the sea off the  giant sandspit that runs along the coast to the harbour mouth.  She loves Wairoa, says the local hospital and medical practice facilities are very good, and the people welcoming. She is practising with enthusiasm for ocean- swimming marathons …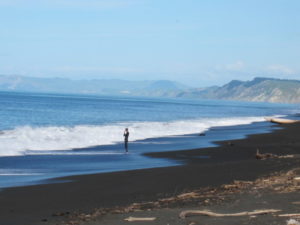 As well as the tidy town itself, good spots for fishing, swimming and surfing, and a sunny climate (we even saw bananas growing), there are attractions like Morere Hot Springs, the beaches of the Mahia Peninsula (and, if you're interested, the space station at its tip)  and Lake Waikaremoana further afield.