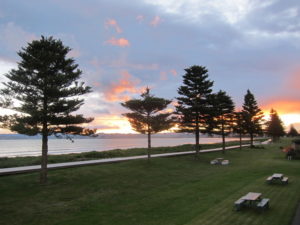 Turanganui-a-Kiwa was our spring holiday destination this year.  Sunshine every day, so much to do and see.. here are a few  highlights..
Watching the Walkway
From our motel balcony we enjoyed watching the variety of people on Oneroa, the new coastal walkway, which stretches the length of Waikanae beach: walkers, of course, but also runners, wheelchair users, children on scooters, teens on skate boards, mums with prams, amateur cyclists and lycra-clad racers, groups in pedal buggies…from sunrise to sunset.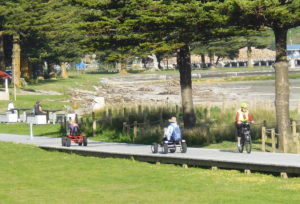 We hired bicycles (excellent sturdy new ones for women from the Gisborne Cycle Company and each of us explored the coast and riverside, both walking and cycling.  Fine municipal swimming pools, Peppers Beachfront Bar and Café , and the very friendly Captain Morgan's Cafe (run by welcoming hosts Dane and Michelle- excellent fish and chips and healthy fresh fruit juices) can all be easily accessed from the walkway too.
The City Centre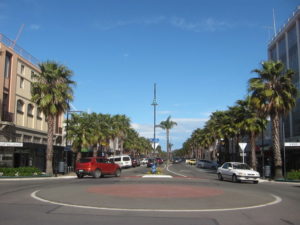 The main street is distinctive for its rows of tall exotic palm trees.  The shop staff are friendly and chatty.  No traffic jams, even at peak times – and easy parking in main or nearby side streets.
USSCO (in the restored Union Steam Ship Company Office near the wharves) is an outstanding restaurant- fully equal to anything in Auckland. Many other good food places to choose from too.
In the course of our stay we bumped into three couples we know who have left Auckland or Wellington to retire in Gisborne.  In each case, one partner had been there as a child, and was glad to return with her partner  for "weather, low cost of housing, proximity to the beach, perfect conditions for gardening and friendly people…"
 The White Guitar
This extraordinary play was on in the new Gisborne Memorial Theatre during our stay.  A gut-wrenching, deeply disturbing, but eventually redemptive story of an immigrant family in the 1970s from Samoa – the father Fa'amoana John Luafutu, and his two sons Matthias and Malo (Scribe, the rap artist) told their own story through action, words and music.  Wherever the play is on, it has had outstanding reviews- do see it if you can.
Reviewed by  Paul Simei-Barton (New Zealand Herald):
http://www.nzherald.co.nz/entertainment-reviews/news/article.cfm?c_id=1502967&objectid=11669771
Towards a bicultural partnership…
We especially enjoyed the strong Maori presence around Turanganui-a-Kiwa, and the bilingual signage everywhere.   The Tairawhiti Museum had not only an excellent historical exhibition on the history of the area, both Maori and coloniser, but also a lovely display, Taonga Tuku Iho: Family Treasures: an exhibition in which school children from 19 families (Maori, Pakeha, German, Niuean, Samoan, Rarotongan, Indian and others) within the Tairāwhiti region show and talk about their treasures. The show was very diverse and included tangible and intangible treasures, ranging from precious pounamu earrings, medals, tivaevae quilts and fine mats, toys, books,  to values and  skills taught by ancestors…
On our last morning we went to a special early morning ceremony recognising Te Ha, the first encounters between  Maori and European 248 years ago.  Led by Mere Boynton, this was one of the activities in the lead-up to major celebrations for the 250th anniversary of Captain Cook's landing here on 7 October  1769. Waka ama and music groups participated, and karakia were led by priests and ministers of different denominations.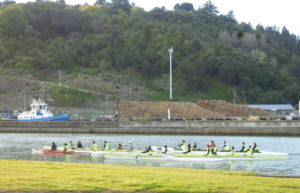 There's been lots of progress in recent years, but a long way to go yet before some of the Pakeha population recognise the welcome their ancestors were given, and the partnership offered later by the Treaty of Waitangi, and stop behaving like the conquerors and owners of the area.
Notice the piles of logs, from the ubiquitous inland pine forests, on the wharf at the base of Titirangi (now called Kaiti Hill), the site of the original pa at the mouth of the Turanga River.
Here are some thoughts from a column headed Turanga tangata rite: Gisborne, where all people are equal by Dame Anne Salmond in the Gisborne Herald Weekender of Saturday 1 October:
…as the 250th anniversary of the first meetings on land by Maori and Europeans draws near, the spirit in which it is approached is vital.  If the commemorations once again focus on James cook and his men, this will indicate that as a community and a country since 1969 we have learned little if anything about our colonial history.

If, on the other hand, the voyaging feats of the first star navigators from Polynesia who discovered New Zealand are commemorated alongside the arrival of the Endeavour, and the tragedies as well as the friendly exchanges that accompanied the first landings of Europeans, that will be a step towards a future based on equality and respect, in which the promises of the Treaty are truly honoured…