From Turanganui-a-kiwa to Te Wairoa: on the inland road…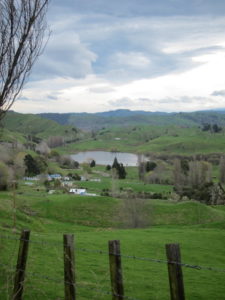 From Gisborne, the inland road leads across plentiful plains, up into rugged hill country , and then descends into Tiniroto, Frasertown and Wairoa.
A side road took us to Tiniroto village – pub, school, community garden and a couple of houses clustered above the lake.  A hospitable publican made us an excellent cuppa,  while some  locals waited for a rugby game to begin on the  telly.  The only woman there, Jennie Law,  talked with us about living and farming in the area, and we discovered she has a comfortable farmstay cottage (sleeping 7) at Kainui Farm, between Tiniroto and Frasertown. It looks great for a family or friends' group stay: https://www.holidayhouses.co.nz/properties/60549.asp
The Frasertown Pub is worth a stop, too (this, the next day, after our day at Kotare Village).  We met a couple of older Pakeha men, happy to talk about the district, a Nepalese-engineering-student barman, and a local horsewoman with her Chatham Island partner.   This is one of the townships that was the centre of the uncivil war between the colonial constabulary (led by Fraser) and some Maori who sided with them, against local Maori.
…and from Te Wairoa to Turanganui -a-Kiwa via the coastal road and the Mahia Peninsula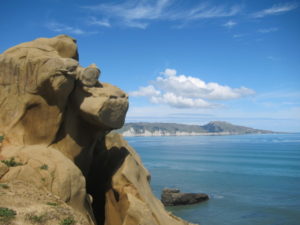 The Coastal highway back to Gisborne is  a lovely drive too, much of it with spectacular coastal views. Further inland, north of Nuhaka, it passes through Morere, with its hot springs – and an honest and tragic storyboard about how the springs were taken over by Pakeha and the local iwi, who depended on them for cooking and bathing, were dispossessed.
The Mahia Peninsula itself has beautiful sandy beaches.  It has recently become famous as the home of New Zealand's first space station, way out near the tip- not that you can visit there.  It aims to launch commercial satellites by rocket,  more economically than anywhere else in the world.  What with satellites up high and drones down low our skies will soon be somewhat cluttered, we fear…
On the last stretch before Gisborne, you pass through acres and acres of citrus orchards (Gisborne produces 85% of New Zealand's citrus ), and vineyards.