Our family friend Nic Moon won the commission to design a sculpture which was also a useful structure at Wenderholm Regional Park to celebrate 50 years of regional parks in Auckland. She worked with three mana whenua groups on the project. We were delighted to be present at the dawn blessing for the sculpture by mana whenua groups on Saturday 19 November, and to see the beautiful work from many angles during our time in the park.
Nic decided to make a shelter shaped like a kererū (also known as kūkupa) feather, because these beautiful native pigeons are thriving in the coastal pohutukawa forest and hillside bush at Wenderholm Regional Park, though now rare in many parts of Auckland.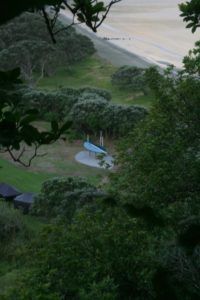 The shelter, crafted in stainless steel, is painted with the green shades of their back plumage on top and the creamy-beige shades of their breast feathers underneath, and supported by three posts inscribed with emblems significant to the tribal groups of the area, Ngāti Manuhiri, Ngāti Whatua o Kaipara, Te Kawerau a Maki.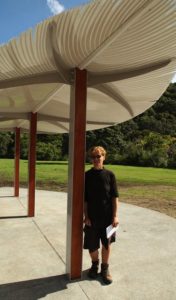 On Nic's last construction day, a large kereru swooped low over the sculpture, several times, almost like a greeting to the work.
Beside the shelter Parks staff have installed a picnic table, and on one of the high poles from a previous shelter, a large bird bath with a permanent water system especially for kereru in the thirsty summer period. Display boards describe the kereru and its habits.
(all photos from Nic Moon, with our thanks)