Nga mihi matakuikui ki a koutou,
I have just emerged from a year-long immersion course in Te Ara Reo Maori at the Lincoln Road campus of Te Wānanga o Aotearoa, exhausted and elated, appreciative of my new understandings, skills and inspiration. I've been immersed in, but also "on the edge of"another way of seeing the world, as a retired 71-year-old lesbian Pakeha amongst two dozen Maori whānau members ranging from 6 months old to 76-year-old kaumatua, from many different backgrounds.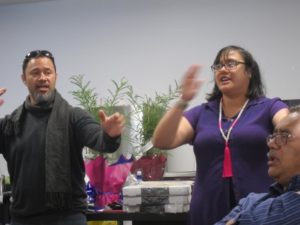 Our inspiration for hanging in when the course became too challenging was our main pouako, Maria-Pare Te Whiu from Tai Tokerau- a passionate, warm, funny, articulate, down-to-earth linguist and beautiful singer, who urged us on every night. Maria-Pare, ably assisted by Greg, exemplified at its best TWOA's holistic approach to learning, which I loved – each week in our two 3-hour classes we had a mix of karakia, waiata, games, Maori tai chi, impromptu discussions, group work, debates, mihimihi, whanaungatanga, assessments, grammar, homework and food – and received a bundle of new written and oral resources. In addition, we had four 1-day Wānanga and two 3-day Nohonga, one at Umupuia Marae and the other at Te Kura Kaupapa Māori o Te Kōtuku, Rānui.
Our course culminated in each of us having to present a 20-minute seminar at the end of November , in Te Reo, on the topic "He aha o whakakitenga mo ngā uri whakaheke?" (What are your dreams for future generations?) .
Mine were as follows:
TE HUA PARAKORE (that every child learns to grow organic food)

TE MANA WĀHINE (that violence stops and women and children are uplifted)

TE REO RANGATIRA (that every child learns te reo Maori)
and I finished my presentation with this whakatauākī from Te Puea Herangi:
"I TE MOEMOEĀ AU, NĀKU ANAKE
I TE MOEMOEĀ TĀTOU, NĀ TĀTOU KATOA"
(If I dream alone, it is only my dream; but if we share a dream, together we can make it happen)
The challenge for us all now is how to keep moving forward with Te Reo into the future…
I strongly recommend Te Wānanga o Aotearoa courses, which are widely available throughout Aotearoa: https://www.twoa.ac.nz/ Courses and resources are free.
And of course we are all very lucky to have so many resources available online and on air through : Radio Waatea – AM 603: http://www.waateanews.com/ ; Maori Television: www.maoritelevision.com (Chanel 5 on Freeview, and Te Reo Maori: Chanel 15)