What a privilege it is for us, with our resources and networks, to live in Tamaki Makaurau, with the wealth of cultural activities available to many. We are lucky to have friends who invite us to participate in events of special significance in their cultures, or who bring their unique experiences to us.. .and who keep us aware of the vast differences in privilege and activity available to different people in Aotearoa..
Going West..
We went to the opening of the annual Going West Auckland Writers' Festival to hear Aotearoa's new Poet Laureate: Selina Tusitala Marsh. She read the stunning poem she had written for the Her Majesty Queen Elizabeth on behalf of 53 nations for Commonwealth Observance Day.
"It had a few parameters around it: it had to be less than three minutes long (fine); it had to address the theme of unity; it had to be appeal to over a thousand school children, royalty, dignitaries, heads of state and the common assembly (difficult but do-able); it had to represent all 53 nations of the Commonwealth (in less than three minutes?); and it was not allowed to be political (oookaaay). Challenging but not impossible."
Selina is amazing- she brings together rap rhythms, Pasifika consciousness, academic rigour and respectabiity , enormous warmth and humour, and biting political commentary in a unique blend.
This NZ Book Council website backgrounds the poem and its sequel:

http://www.bookcouncil.org.nz/aotearoa-reads-details/nz-poet-selina-tusitala-marsh-visits-and-sasses-the-queen
And you can see and listen for yourself to her poem in its original setting:
Miso Making at Earthsong..
Three years ago we joined a workshop with Yuki, a long-term Earthsong resident, to be taught how to make miso paste. The two containers Charmaine brought home have lasted us well- but only a little deliciously-dark matured paste left in one – so Charmaine was delighted that Yuki decided to run another workshop. We'd like to think that those of us who'd been involved before made less of a mess this time when we threw paste from one hand to another to squash out air bubbles, and flung the firm balls into our containers – but we can't match Yuki's skills.. Never mind- our miso lasted three years getting better and better, so great to have another supply. Thanks, Yuki!!
Mourning at the Mosque in Ranui…
Amina, the loved mother of our friend Farida Sultana, died in early September last year. Farida invited us to the Ranui Islamic Centre to join family and friends, including staff from the rest home where Amina had been living, for a memorial service for her mum on the anniversary of her death. We gathered in a special women's area next door to the mosque with a group of women and children for readings and prayers in Arabic, led by the wife of the Imam, and then shared talk and food. A privilege to be part of a spiritual journey very different from our own in external expressions, but deeply familiar in acknowledging grief and hope, and in women's solidarity.
Te Koanga Whanau Day at Te Pou Theatre in New Lynn
We've been frequent visitors and supporters of Te Pou Tokomanawa Maori Theatre in New Lynn since its opening in April 2015. But this year, for the first time, we went to their free, multicultural Koanga Festival Open Day with our neighbour's son, Taiga, for his eighth birthday.
We experienced Maori theatre performances for children, mini-robot games, the Dorothy Butler Bookshop Te Reo bookstall, Chinese calligraphy lessons, a moon-cake legend story telling with two young Chinese women, Cook Island drummers – and, of course, hangi food. What a delightful way to spend a day! and what a generous gift to all the families attending…
Radharani Festival at Hare Krishna Temple in Riverhead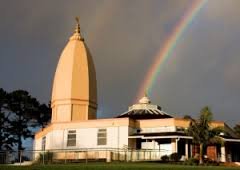 Four members of the Auckland Hare Krishna community have been participating in the same Te Reo class as Tanya this year, and invited members of the class to bring their families to a special festival at the Riverhead Temple. Since it was a celebration of the woman Radha, Krishna's consort, we decided to go. So on Wednesday 30 August, as we rounded a bend on the long dark driveway from the main Riverhead road we saw for the first time a huge temple glowing bright gold through the trees. Amrita met us in the foyer, and cared for us all evening, explaining what was happening. There were five hundred or more people in the temple – many chanting, some talking, walking around, taking photos, many in beautiful formal saris or tunics, many in Western or work clothes- and we watched two dance groups as well as the ceremonial bathing of statues of Krishna and Radha with many liquids from golden jugs.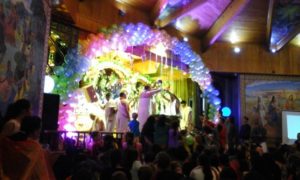 The most dramatic feature of the evening was the stage itself- piled high with mountains of fresh fruit and flowers, and framed with colourful lights and balloons . At the end of the ceremony the fruit were distributed to members of the congregation – a young man insisted we take a big bag of grapes, bananas, apples and oranges- and while initially reluctant, we realised we had a young family to support next day so we graciously accepted.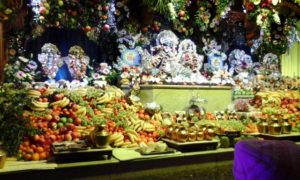 At the end of the ceremony, Amrita took us down to the dining room for a delicious vegetarian feast served continuously from laden buffet tables.
The amazing feature of the Hare Krishna movement seems to us to be their generosity – they serve meals daily to anyone who arrives at their temple complex, for whatever reason, without any charge and without proselytising. A kindly and colourful faith indeed…
A young family in the south of Auckland…
Next day we delivered the fruit along with other food to a young Maori family we have known for many years. They are facing new challenges imposed by the abusive behaviour of drug-addled neighbours and the failure of police to deal with this situation, on top of the daily struggles of children's illnesses, housing difficulties and lack of work opportunities…These structural issues in our society leave many young people drained and demoralised- who, in our election campaign, is offering the most creative solutions? A good touchstone for making decisions about who to vote for….
OTHER (Chinese) at Q Theatre in the CBD
This performance, directed by Alice Canton, involved 25 Chinese people from many backgrounds, ages and occupations presenting both their experiences of life in contemporary New Zealand, and highlighting tensions between generations, and the racism in New Zealand society.…Funny, sad, political, angry, perceptive story-telling…
Lema's return to Ranui from DR Congo
And to round off a month of extraordinary experiences, we had a visit here at Earthsong yesterday from our friend Lema Shamamba and her daughter Amani . Lema has just returned from a seven week visit to her family in DR Congo and Uganda, bringing gifts, poignant letters from children in the Amani Orphanage in Bweremana, and in a refugee camp in Kampala, plus three stunning short films she directed and narrated about life in her village. She made them with her brother as resources for Congolese children growing up in Aotearoa, and for interested New Zealanders.
We plan to organise an evening of films and discussion about life and challenges in Lema's village, possibly on Friday 20 October at Earthsong.