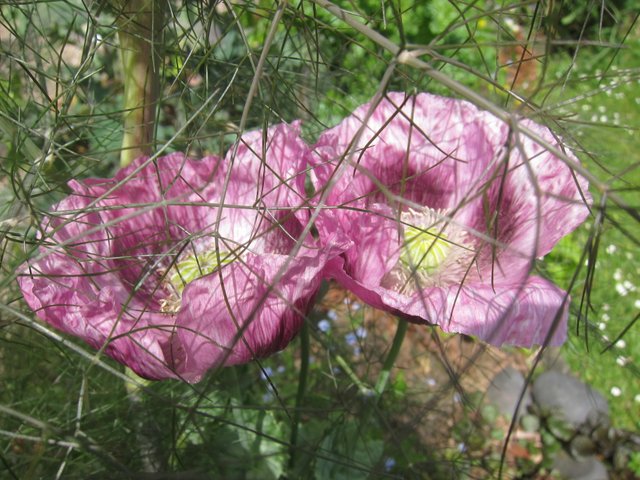 Outside our house we've been delighting in summer weather and shades of purple in the garden.
Inside, we're surrounded by bags and boxes and more boxes, and bits and pieces still to be shed, as we enter the last ten days of our preparations for moving. One of the good features of this process has been the discovery of Marie Kondo's book, The Spark of Joy, on creative decluttering, and another has been finding a range of organisations around West Auckland which gladly recycle things (clothes, books, furniture, old computer bits, vinyl records, paintings and pottery -pretty well anything, really) in creative ways.
We've had wonderful help from our Coromandel friend Sue Smith, and our local friend Amani Irenge.
Tanya has also prepared a summer vegie garden for the new owners of Number 8, and found replacement guardians for her Earthsong garden projects.
And we have both continued to weave interesting cultural and political events into our lives, as you will see in the posts which follow.
We leave Earthsong on the morning of Thursday 30 November for a three-month break before we move into our Grey Lynn apartment around 9 March 2018.
In addition to time at Rēkohu (Chathams), Orua Bay,Waitakere Ranges, then the City Centre for the International Women's Tennis and visits to friends. We'll be house-sitting a lesbian friend's west coast beach house in January. Many thanks to all of you who have invited us to spend some time with you or to lend us a house – we'll hope to catch up with you in February.
From 30 November on we'll be using our mobiles and our changed email addresses as below:
Charmaine: 021 058 4741: charmaine@earthtalk.co.nz
Tanya: 027 346 5835: tanya@earthtalk.co.nz
And we have a postal address in Grey Lynn which we'll be checking regularly:
P.O Box 78-388, Grey Lynn, Auckland 1245