After venturing onto the eastern-most island of Aotearoa – Rekohu – with its unfamiliar landscapes and communities, it's very comforting to drop back into our favourite seaside cottage- Lupin Lodge, at Orua Bay on the northern tip of the Awhitu Peninsula. We've been coming here together for short breaks for thirty years, beginning when we first met Nganeko Minhinnick and Ngaati Te Ata in 1987. It became our base for the weekends we spent looking for land on the Awhitu Peninsula.
We've enjoyed calm, sunny weather for a fortnight, the glow of pohutukawa on the cliffs round the bay, and the ever-changing vistas of sky, hills and harbour.
From our bed in the morning, with cuppas in hand, we watch the silver arcs of mullet leaping in the shallows, and a solitary shag diving for food and surfacing, diving and surfacing, again and again, along the length of the beach.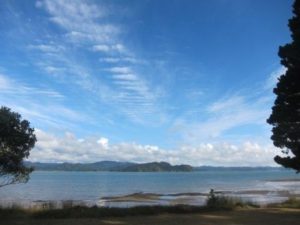 Early morning swims, gentle walks, leisurely meals on the deck, and the luxury of reading whole books in the daytime (Tanya has enjoyed Renee's These Two Hands, and Charmaine has been challenged by Foreign Soil, by Maxine Beneba Clarke).
On our occasional outings to Bhana's bright orange store at Matakawau we have bumped into familiar locals and caught up on some of the community news. Not many big changes, but the Bhanas told us about the opening of a new Ayurvedic temple tucked away in Pollok , built by Auckland property developer (with a difference!) Neil Hamill, – with 64 goddess sculptures around its walls!
We're grateful now to be feeling deeply rested, after a hectic few months preparing to move from Earthsong. All our household goods are safely in storage for three months, until we move into our Grey Lynn apartment in March 2018.