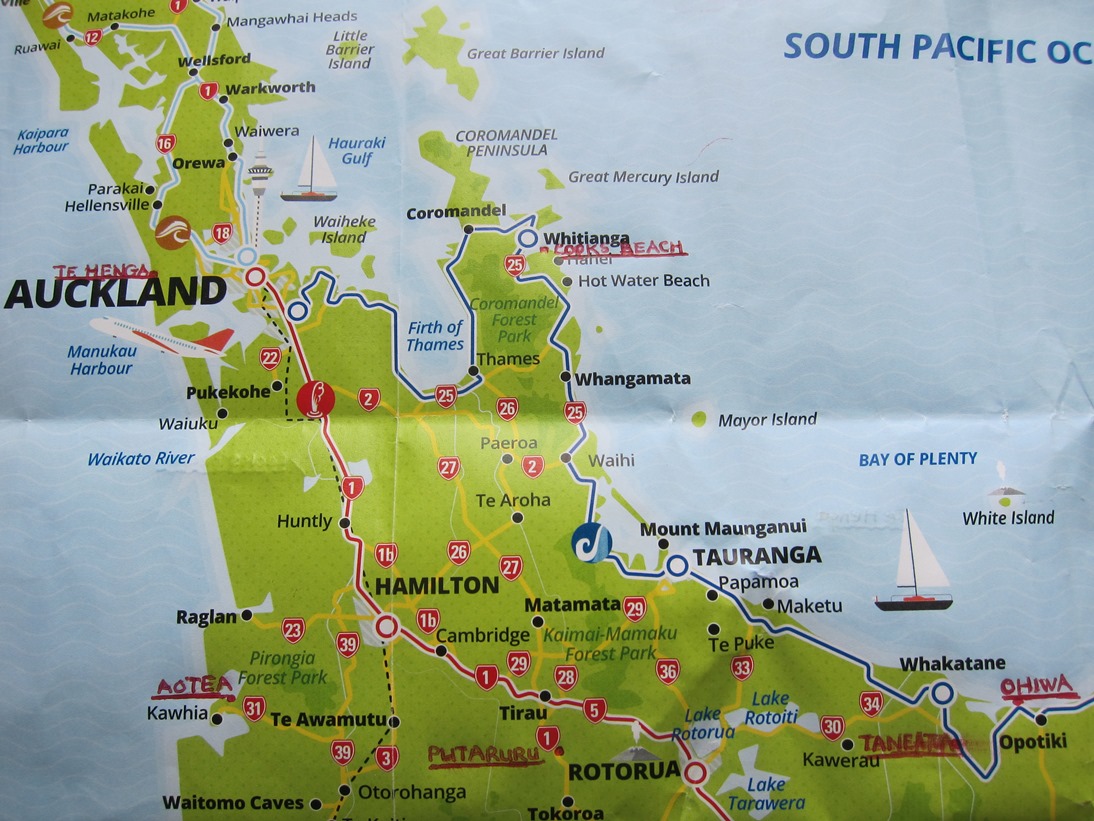 Christmas 2017 in the Waitakeres
We spent Christmas week 2017 with our friends Farida and Shila in the Waitakeres, being treated as honoured aunties and fed delicious meals from many different cultures. On Christmas Day we drove to the waterfront together and walked from Kohimarama to St Heliers and back, enjoying the vast crowds of happy families celebrating with a Christmas lunch and games on the beach.
Then on 8 January we set off for our two months of holiday at four different beaches, two on the west coast and two on the east of the North Island…here are a few highlights:
A month at Te Henga (Bethell's Beach, on the wildwest coast of Auckland City)…
…house-sitting for friend Lynx (and Ocicat Malty) in a comfortable home behind the sand dunes, looking out at bush-clad Taumaiti hill…
our daily trudge along hot black sand tracks to swim in the wild west coast surf- frothy, exhilarating waves and urgent undertow and rips..
a climb up the hill and around the cliffs to O'Neill's Beach..
a walk up the stream to Wainamu Lake for a cool freshwater swim..
hot January days plus a couple of storms, and time to read and rest..
lots of visitors, friends and family, from Ranui and beyond
then back to the city for a special women's concert- see Celebrating Women's Music in Aotearoa)
A week at Aotea Harbour (on the west coast, just north of Kawhia Harbour)…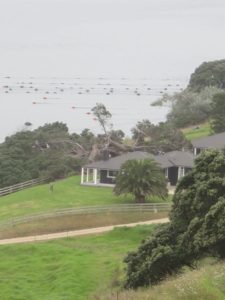 …in a lovely Bookabach cottage at the end of the road , overlooking the calm Aotea Harbour…
Horoure Pa ( its ancient fortifications still obvious) to our left, a thousand-year-old pohutukawa tree (its huge tangled trunk split into two in a storm the previous year) to our right , Oioroa Reserve and wahi tapu around the shoreline below, sand dunes across the harbour with Mount Karioi on the horizon beyond – we were very mindful of a thousand years of tangata whenua history around us…
daily swims in calm water, with a gentle current of incoming and outgoing tides
the tiny settlement of Aotea with about 20 permanent families, those we met especially friendly and helpful with their time and local knowledge..
generous gifts of fruit, flounder, shark from locals, and mussels from the spat farm just beyond our bay..
several trips to Kawhia, 10 minutes away, a fishing village little changed in the thirty years since our last visit – with friendly locals – especially Dallas at the Rusty Snapper Cafe and Zarna at the Museum, and Jeanette at the craft shop.
and the very strong local Maori presence around Kawhia, with marae all around the harbour..
Crossing the Island
On Tuesday 20 February we set off to cross the North Island from Aotea Harbour to the Coromandel Peninsula via Putaruru, where our friends Jenny and Leslie have their beautiful mature Pokaiwhenua Tree Farm. We caught up over lunch and a walk around their nursery and the Secret Garden- a gully planted with all kinds of beautiful trees and shrubs, both native and exotic. Arrived at Cook's Beach in time for a refreshing evening swim.
10 days at Cook's Beach, in Te Whanganui-a-Kupe (Mercury Bay, on the east coast of Coromandel)…
…in a comfortable old-fashioned kiwi family bach, belonging to the Griffin family, relations of our friend Sue Smith from Colville…
daily walks on the long white sandy beach and morning swims in the gentle surf...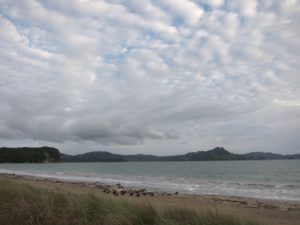 visits to Eggscentric Cafe for delicious healthy food, wifi access, and an evening with young musicians..
a drive to Hahei and Hot Water Beach with their large closed mansions, plagues of campervans and cars, international tourist resorts, no longer feeling like Aotearoa…we're glad we weren't staying at either..
gathering tuatua with Sue on a misty morning..
a lunch visit to Tanya's cousins, Liz and Merv at Wharekaho Beach..
an exceptionally fine body treatment for each of us with Claudia Pentner, a multi-talented and trained healer, in Whitianga..
A week at Ohiwa Harbour (on the east coast between Whakatane and Opotiki)…
…in a small self-contained cabin at the excellent Ohiwa Harbour Holiday Park, overlooking the Ohiwa surf beach.
swims most days, and walks along the driftwood- strewn beach and sandspit…
exploring the shores of the vast , shallow harbour, studded with sandbanks and islands – a place of international significance for migratory birds..
walks up Te Okawa and Te Mawhai pa, reading about Te Kooti and his death in the area,
walking to a glowworm cliff at night..
a catch-up with Swani (ex Awhitu, now at Ohope)
a day in Taneatua to visit the Tuhoe Living Building, Te Kura Whare (see separate account at https://www.earthtalk.co.nz/2018/03/te-kura-whare/ )
dinner with Lyn and Kate in Opotiki (Lyn is now Deputy Mayor) followed by a comedy evening with Raybon Kan and Nic Rado at the Senior Citizens Club in town, as part of the Creative NZ Summer Arts Tour
time at Tangata Whenua gallery and shop with owner Tangimoe Clay..(we bought the raupo kite..)
fresh pipi and barbecue evening with environmentalists Mike and Meg Collins and guests, watching a splendid sunset over the harbour from their cliff-top home..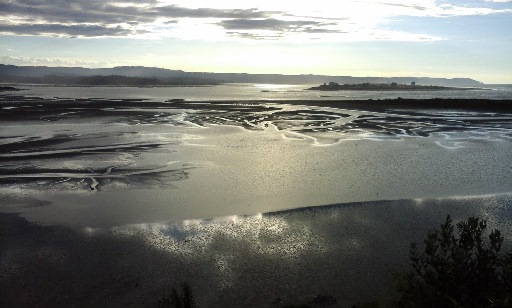 a day in Taneatua to visit the Tuhoe Living Building (see Te Kura Whare)
We've been especially delighted by the availability of fresh organic fruit, vegetables and fish from generous locals, wayside stalls and farmers' markets wherever we've been – rural Aotearoa is indeed a country of bounty and beauty still.

We also feel exceptionally lucky to have had the last two months to explore these different coastal communities, and many in between, learning lots more about Maori history, colonisation, ecology and current issues.