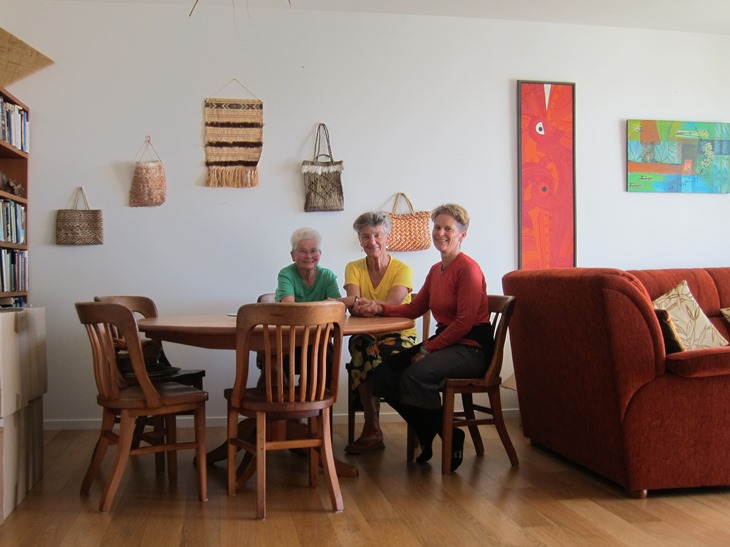 We moved into our new urban apartment- in Ockham's Isaac Newton project in Grey Lynn on Saturday 10 March. We feel very lucky to be here.
The environment is exciting and stimulating; The apartment is white, crisp, modern and lovely- our challenges include remembering how to use our "swipe keys" for entrances and exits, and learning to drive more up-to-date appliances than we've had before- all good Fisher and Paykel and NZ-designed!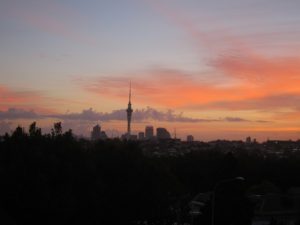 From our apartment, on the third floor with a north-facing deck, we see the upper Waitemata harbour to the west; the Sky Tower, sky scrapers,and cranes on the city skyline and even a glimpse of Rangitoto to the west; and in the foreground we can watch the comings and goings of people and their dogs , some from apartments across the road, others from the surrounding streets lined with old huge trees.. The fourth floor, directly above us, is a residents' lounge, deck and grassed area with sweeping all-round views of Tamaki Makaurau and the sky in all its moods- a wonderful extra space for us all.
Our lovely friend, artist Nic Moon, joined us for two days to place our favourite art works in each room, so we feel quite at home already.
We also have a garden! On our deck, Tanya has planted herbs, salad greens and flowers in six green pots, and some of our lichen-clad terracotta women are dancing in a corner.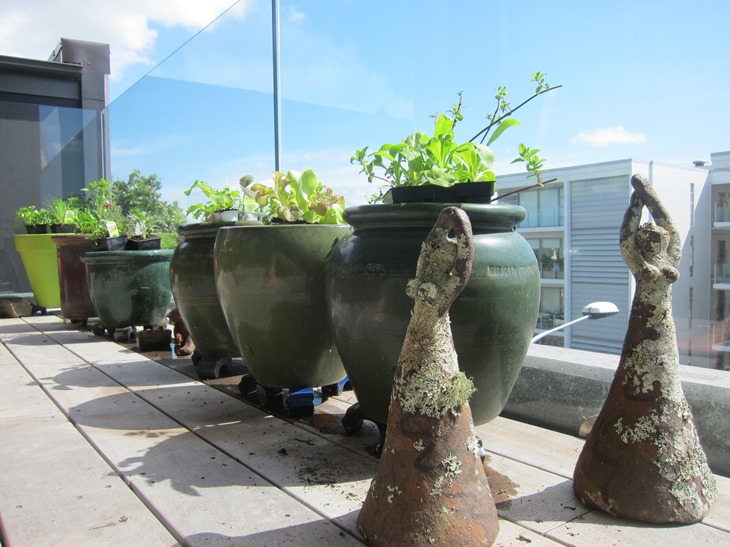 In the evenings we've been reading the Maori history of this ridge, Te Rae o Kawharu , and the surrounding area. We hope to talk soon with some of our Ngaati Whatua and Waiohua contacts to learn more.
We watch the urban birdlife- magpies chortling on chimneys and church steeples or squabbling with seagulls, and , of course, starlings and sparrows, pigeons and doves. From the rear bedroom we look down on palms and ferns on the levels below, and Owairaka (Mt Albert) over the rooftops.
Busy traffic in Surrey Crescent during the day slows down at night. Tanya (who has never lived in a central city area before) is finding the city noises challenging at present – no more open windows and curtains at night! Charmaine (who lived in Ponsonby for 7 years) manages to translate car noises into waves breaking on a beach, and slips into peaceful slumber quite quickly.
Our location is fantastic. Five minutes to walk to the Grey Lynn shops (including a well-stocked supermarket and a lovely library), ten minutes to West Lynn with its organic shops and a dozen cafes. Half an hour to the central city by foot and bus, and 10 minutes drive to the Town Hall for the Mahinarangi Tocker concert on Saturday night
Every Sunday there's a Farmers' Market in the Grey Lynn Community Centre, five minutes walk down Richmond Road from here, where we can stock up on fresh fruit and vegetables, breads and cheeses, and all manner of artisan pastries and relishes. And we'll be able to do long walks (or bike rides) around our new fascinating neighbourhood with its many parks and historic areas to keep fit…
Wherever we go we have been welcomed (or welcomed back) to the city by lesbians we know. And to those of you who worry that Tanya might find her 6 pots on the deck too limiting, St Columba Church (next door but one) has community gardens to which she has been taking our compostables, and from which she has been given fresh figs- and she's already been offered an allotment as soon as one becomes available!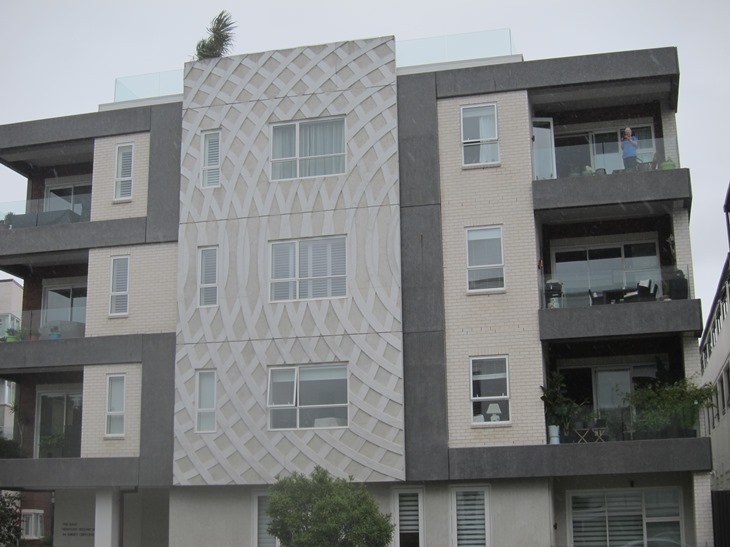 Our building is Newton, at 64 Surrey Crescent, the second of the two named for Isaac Newton, on the left if you are coming from the Grey Lynn shops. Both buildings have the same design – the interference pattern created when two wave systems meet, which Isaac Newton described and developed formulae for. In this picture from across the road Charmaine is on our deck- on the top right-hand corner of the building.
Ockham Developments is a very innovative firm determined to build affordable, energy efficient, well connected urban homes which will enhance Auckland's landscape. Our block is five year old, and they have built several more in Auckland since. Daisy, their most recently opened building, is the first ever Homestar 10 rated apartment building in New Zealand. See below for details.
https://thespinoff.co.nz/auckland/18-03-2018/the-daisy-apartments-why-did-we-do-it/#.WrBQXsWyWHU.email