Going West: a Festival of people and language, held annually in Titirangi in West Auckland, this year featured many women and acknowledged te reo Maori throughout the programme. We loved the Friday night opening session with Serie Barford's poems, Paula Morris's oratory, and one of our favourite singers, Moana Maniapoto.
Some highlights….
The Saturday morning panel Women Then, Women Now, brought together older women Dame Fiona Kidman and Sandra Coney, and younger ones, Golriz Ghahraman and Lizzie Marvelly, in discussion expertly managed by Carol Hirschfield. Each woman's perspective was very different, and there were many respectful, affirming and illuminating exchanges among the four.
An unexpected treat was the lively and informative discussion between columnist Rachel Stewart and Debbie Stewart of Wingspan about raptors – especially kea, karearea and ruru. Both are passionate about ensuring the survival in Aotearoa of these fascinating birds, and both enjoy falconry; Debbie has written the book On Fragile Wings.
The three final sessions on Sunday featured Maori writers and researchers.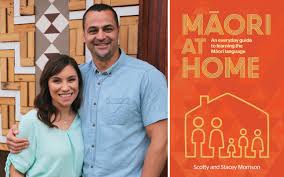 Hearing Stacey and Scotty Morrison talk about their journey as learners of te reo, Tōko Reo, Tōku Ohooho was inspiring. They also talked about the 'language trauma', which affects many Maori when they feel unable to speak their own language adequately in a situation – a mix of grief, shame, fear…a reminder to all of us Pakeha, especially, not to flaunt the little reo we know in settings we don't fully understand.
Fascinating also to hear Gavin Bishop, of Maori and Scottish ancestry, talking in Drawing Our Own Histories about his children's books, especially the House That Jack Built and Aotearoa, weaving Maori and Pakeha history, and beautifully illustrated. Also, in He Tūrangawaewae Hou (A New Place to Stand), Brad Haami talked with Ellen Henry about his book Urban Maori, the effects of displacement of Maori through urban migration, and the new developments emerging.
Overall, the organisation of this festival is outstanding, and the increasing inclusion of women, Maori and Pasifika and other cultures is great; we also appreciated the efforts to greet speakers in te reo, and the use of both English and Te Reo in the programme headings.