Walking...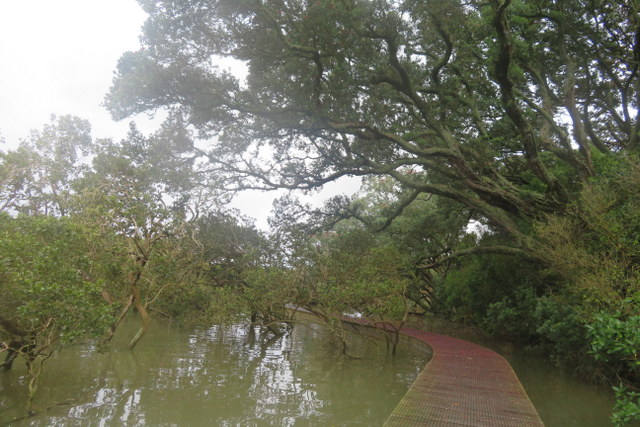 Christmas Day was a fine, cool day for a walk, so we set out to explore the Westmere coast. A bus to Meola Road, and then we took the new boardwalk through the mangroves to Weona Reserve.
Glimpses of Meola Reef across the water, until we climbed to a clifftop and saw the wider harbour views, and a flock of geese on the water. The track meandered past old clifftop state houses and modern mansions, and under deep crimson pohutukawa to Westmere Park.
Then back up through the houses to Westmere shops and home on the bus. A fine way to spend three hours on a quiet Christmas morning!
Closer to home, on another day, we stride downhill between the plane trees to Grey Lynn Park with its pump park for young daring cyclists, up one of the many roads to West Lynn and then home – a brisk four or five kilometre walk, enjoying the avenues of trees and the mix of old villas, busy renovations and new homes.
Several times a week one or other of us goes up the road to Grey Lynn shops for a paper and mail, or colourful flowers from one of the dairies, essentials from the supermarket, a visit to our hairdresser of 30 years, and two or three times a week Charmaine takes a trip to the excellent library…
There's always a mixture of people in Grey Lynn: all ages and styles..an older man who spends most days in a blind doorway under an umbrella… smiley Pasifika mums and babies…old ladies with walking frames…yuppies from many cultures in cafes…shoppers with bulging bags… brisk Indian couriers, wandering casual teenagers, and always lime scooters whizzing by, and dogs trailing owners…
Tennis…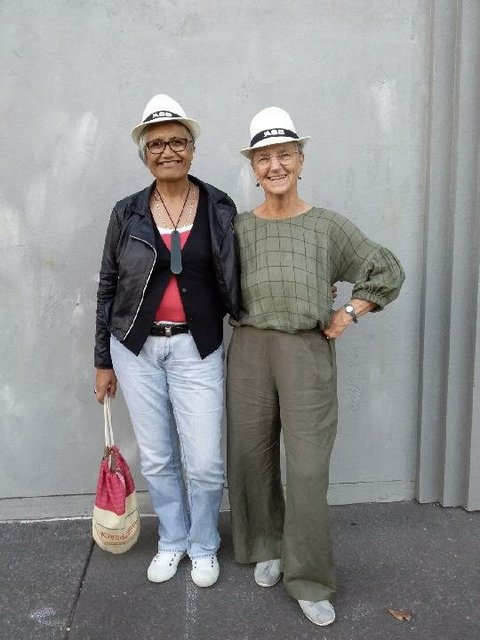 Tanya spent three days as usual enjoying the ASB International Women's Tennis. Here she is, dressed for the occasion, with her friend Kohine …
They were lucky to see some outstanding tennis , especially the up-and-coming young players like 17-year-old Bianca Andreescu (Canadian of Romanian heritage), Paige Hourigan (New Zealand Maori), and Taylor Townsend (USA-African American)
Swimming…
How lucky we are to live near a fine swimming pool, Point Erin Baths, and an excellent beach, Point Chevalier.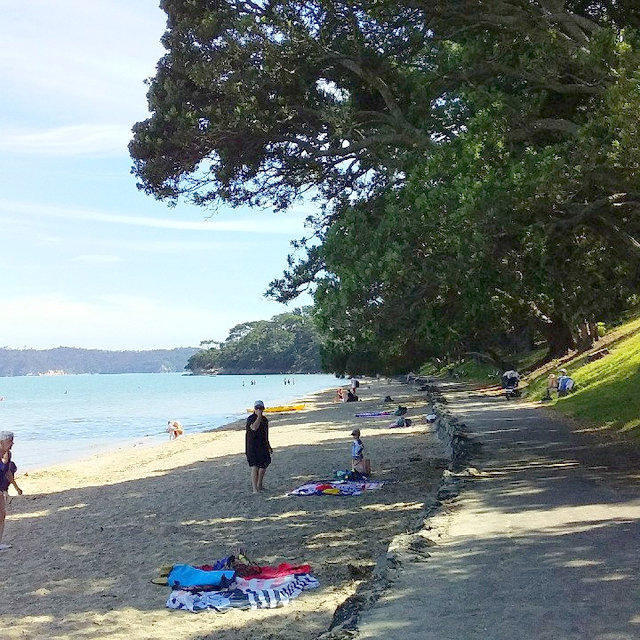 We have managed many swims, either early morning at the pool before the big families arrive, or when the tide is in at Point Chevalier.  Both are fringed with huge flowering Pohutukawa, the water is warm,, and both are popular for picnics.
Other exercises…
Tanya's new knee is ten weeks old now, and she's just been to a physiotherapist for an assessment. All well, but a need for more challenging exercises to reach the next stage of flexibility. Charmaine (surprisingly) continues to go to the gym across the road – appropriately called FIT FIT- hoping to keep as FIT FIT as possible for a naturally-sedentary near-77-year-old.
What a lot of work is needed to keep aging bodies going!