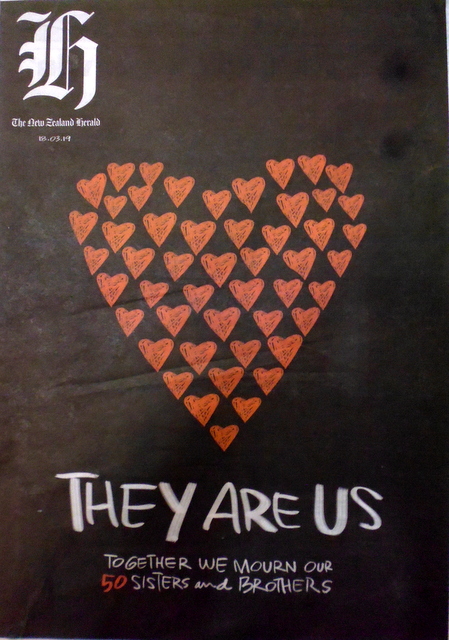 You will all have heard about the terrorist attack on Muslim people praying in two Christchurch mosques last Friday, 15 March.
Our hearts go out to the families who have lost dear ones, and to all Muslim people in Aotearoa, whose hopes for a safe country to live in have been so cruelly shattered.
E rere ana te mihi aroha ki tō tātou whānau i pāngia e te parekura i Ōtautahi, auē taukiri ē. Rātou ki a rātou. Tātou ki a tātou.
We can no longer think we in Aotearoa are immune to the hatred seeping under the surface of so many countries around the globe. A visitor from Australia, a gun dealer who sold semi-automatic rifles to him, and an Otago rifle range where he practised alongside New Zealanders playing with these machine guns for 'fun': all contributed to the murder of 50 innocent people- and the internet spread the murderer's poisonous words and deeds like a plague..,
But there is also, throughout Aotearoa, the outpouring of kindness, compassion, manaakitanga, love – the flowers , the koha, the vigils and mass gatherings to grieve and show support for our Muslim citizens, and the offers of marae and churches for their ceremonies.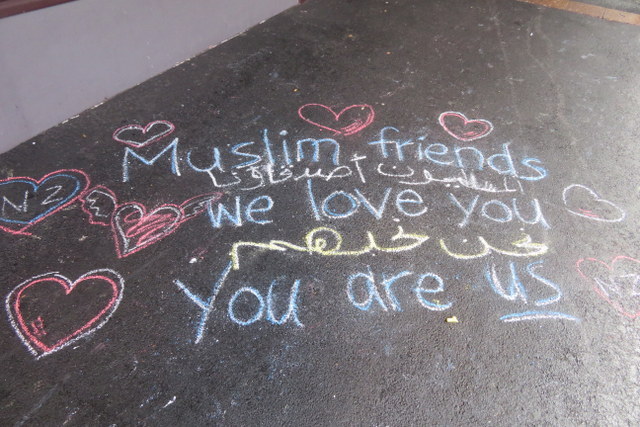 Our Prime Minister, Jacinda Ardern, has been the right leader to help us through this time. She has shown in herself those positive qualities we value- kindness, compassion, love.
And she has also shown a steely resolve to challenge the structures in our society which allowed this evil deed to happen: inadequacies in the supervision of white supremacist organisations by our intelligence organisations, the spreading of ignorant filth and hatred on the internet , and slack gun laws.
There were two outstanding commentaries on the main page of the New Zealand Herald on the morning of Monday 18 March, one by Steve Braunias (Killings "the end of pretence"…) and one by Claire Trevett (Solace and Steel..)
(https://www.nzherald.co.nz/opinion/news/headlines.cfm?c_id=466link to Herald editorials)
And Newsroom (also on Monday 18 March) had a range of thoughtful journalism and analysis.
No decent human being in this country would want an awful event like this to happen again. But if we want to prevent the spread of evil, we need to acknowledge our weaknesses as well as our strengths.
We need to acknowledge that our country, too, harbours the racism, ignorance and hatred underlying this man's actions.
Our nation is founded on colonial force and misunderstanding. And as well as seeking justice for tangata whenua as Treaty partners, we must also tackle the day-to-day casual bias and nastiness that many of our citizens experience.
The organisation Action Station here in Aotearoa makes an outstanding contribution to thought and action for a better society – there are excellent suggestions and resources on their website for helping us deal with unconscious biases. Maybe some of you would like to join up and support their work. Here are some useful links from their supporters' newsletter:
Read this guide from Amnesty International on how to tell someone you love they are being racist.
:https://www.amnesty.org.au/tell-someone-love-theyre-racist/?
You can also check out the NZ Human Rights Commission's toolkit on their Give Nothing To Racism website.
We hope you will share these with friends who are committed to helping to resolve misunderstanding and conflict between cultures and faiths.
(To those of our friends – former wwoofers at earthtalk@awhitu from France, and the USA – who have sent messages of love and support, our warmest thanks. We are so lucky to have hosted such wonderful, political women who have become long-time friends.)