… the opening of Pacific Sisters, an amazing exhibition on loan from Te Papa at the Auckland Art Gallery– " a collective of Pacific and Māori fashion designers, artists, and performers, the Pacific Sisters electrified 1990s Auckland, bringing the ground-breaking style of an urban, New Zealand–born Pacific generation to the mainstream. Through pioneering, daring shows, the Pacific Sisters overturned stereotypes about Pacific culture, 'dusky maiden' beauty and sexuality." We heard talks from some of the artists (young and fringe in the 90s, now mainstream creatives, including Ani O'Neill and Jaunie Ilolahia – both students at AGGS during Charmaine's time there)
There is an excellent article about this collective and their significance in Pantograph Punch:
//www.pantograph-punch.com/post/pacific-sisters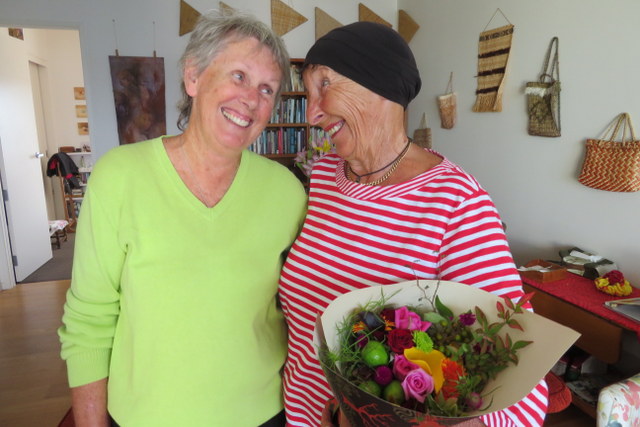 …the anniversary of our moving into 301/64 a year ago – we had Rosemary and Deb for dinner, celebrating 10 March 2018, when they arrived mid-afternoon bringing us a delicious fish pie for our dinner that first night in our new apartment. This time, bearing flowers..

..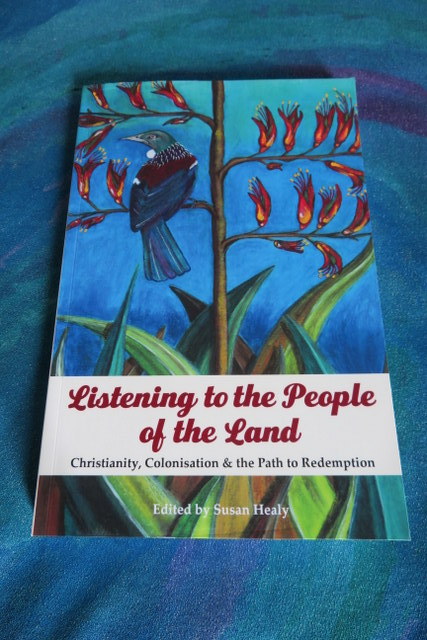 … the launching of a new book, Listening to the People of the Land, edited by Susan Healy, which is a comprehensive account of the impact of Christianity in the colonisation of Maori, an honest view of consequences, and of the possibilities for healing post-colonial injustices in Aotearoa and beyond.
…a play at Garnet Station Little Theatre , "I'll Tell You this for Nothing" – My Mother the War Hero- written and performed (all 27 roles) by Wellington lesbian Kate Jason-Smith to tell the story of her amazing mother, who was a young Irishwoman in the British army during world War 2, and sent to assist in the liberation of the Dachau Concentration Camp, before marrying and coming to New Zealand. An outstanding performance by Kate, both funny and deeply moving.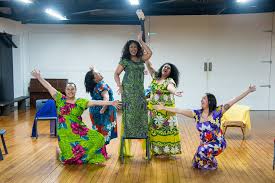 …the final evening of a Samoan play, Wild Dogs Under My Skirt, shaped for a cast of six from the work poet Tusiata Avia has been performing solo around the globe for some years. An extraordinarily powerful stage show, with strong underlying themes of culture clash, colonisation , and violence against women leavened by love, humour, and challenge.
…and last week we joined a celebration in the Aotea Centre for the graduation of our inspiring young Congolese friend, Amani Irenge (daughter of Lema Shamamba) with her Bachelor of Nursing degree from Unitec (and her State Finals- she now has a job at North Shore Hospital)
Finally, our latest discovery in Tāmaki Makaurau- Te Māra Hūpara . This is a newly created cultural garden and playground nestled under the huge old Moreton Bay Fig trees at Underwood Park, Puketāpāpā (Mount Roskill).
The playground is based on traditional Maori log-based structures, and is part of a bigger project of flood mitigation work on the banks of Te Auaunga Stream (Oakley Creek) and restoration of ancient reserves. Te Māra Hūpara itself was the inspiration of Harko Brown. Built by a Boffa-Miskell and Auckland Council design team, it radiates from a 10-tonne swamp kauri stump connecting kōpapa (logs) into an elevated walkway, it is an innovation in play, learning and exercise. It is the first of its kind in Aotearoa- we hope there will be many more…
https://nzila.co.nz/news/2019/04/mara-hupara-playground-a-return-to-traditional-mao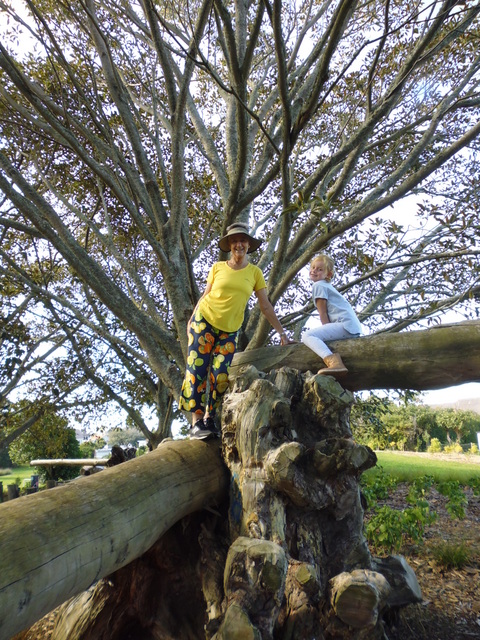 We took Tanya's great-niece Ellie there , and she took to it like a bird, leaping from one log to another – and even getting Great-Aunt Tanya up too! (Charmaine kept her feet firmly on the ground, enjoyed listening to a duo of tui high in the trees, and watched the strut of pukeko through the native reeds) .