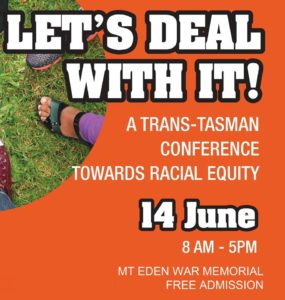 On Friday 14 June we went to this conference organised by Shakti New Zealand and Australia.
Shakti had done an outstanding job in bringing together leaders from a wide range of organisations to talk about how we can move forward in dealing with white supremacist thinking and community and organisational racism.
The first step is clearly to acknowledge the problem- and we heard stories from many women about their own experiences of racism in daily life and in organisational behaviour. Two of the main themes to emerge were the need to call out casual racism as individuals, and to organise group challenges to structural and institutional racism.
Golriz Ghahraman, our first Member of Parliament from a refugee background, talked about her daily experience of on-line hate attacks, including threats of violence, rape and murder. The Government has taken the unusual step of providing security personnel to protect her safety.
The Labour Minister for Ethnic Affairs, Jenny Salesa, told us about the expansion of staff in Ethnic Affairs to deal more effectively with issues arising.
Our own Green Party Co-Leader, Marama Davidson, spoke passionately about the challenges in Aotearoa, and Dr Samantha Ratnam, Leader of the Victorian Green Party spoke about the similar situation in Australia.
Memorable quotes from speakers included:
"We need a constitution in Aotearoa- Matike Mai, the recommended Treaty-based Constitution -is inspiring, but it is still being ignored by the powers that be.."
"It is not safe to challenge the status quo, for women of colour.."
"How do we encourage non-Maori to work on their own people?"
"We Maori have work to do on our own 'uncles'. "
"Humanising each other is a counter-terrorism activity!"
"Building bridges among non-white groups , and sharing spaces, is essential"
"Stand beside us, pakeha!"
"Stop being grateful, and work for change, women of colour!"
And, perhaps the most important for all of us Pakeha women to heed:
"If you've come to help me, you're wasting your time.

If you've come because your liberation is tied up with mine, we can work together."
Some helpful resources:
On a proposed constitution for Aotearoa, written during wide consultation throughout Aotearoa:
//www.converge.org.nz/pma/MatikeMaiAotearoaReport.pdf
And an excellent article by young Pakeha man, Max Harris (author of The New Zealand Project):
//e-tangata.co.nz/comment-and-analysis/racism-and-white-defensiveness-in-aotearoa-a-pakeha-perspective/