This winter we decided to take a short break in the South Island of Aotearoa , rather than on a warm island in the Pacific to the north. So Tanya organised a journey to Marlborough, Kaikoura and Christchurch. In Marlborough we wanted to learn more about the Wairau Bar and Moahunter history there; in Kaikoura we wanted to support continuing recovery after its huge earthquake on 14 November 2016 and learn more about the wildlife of the area; in Christchurch we explored new developments since its two devastating earthquakes in 2010 and 2011, and Charmaine had an old family friend to visit in Lincoln.
We were lucky to have 8 days of frosty mornings and blue sunny days…
Wairau and Blenheim
For many years we have been interested in the story of the Wairau Bar, where the evidence for an early Polynesian moa-hunting settlement was discovered in 1939 by a Marlborough schoolboy, Jim Eyles. So we flew first to Blenheim, and stayed for three nights in a cosy farmstay cottage run by Rose and Will Parsons, near the Wairau River. Will is passionate about the history of the area, and takes guided tours on request; Rose leads her own tours, highlighting women's herstory, to D'Urville Island, where some of her ancestors lived,
www.driftwoodecotours.co.nz
We did a whole day eco-tour of the Wairau River and Bar with Will, including a special Matariki event at the Marlborough Museum – a tour of their Wairau Bar exhibition led by Steve Austin (Museum Director) and Logan Coote (Regional Collections Manager). Logan had worked with Jim Eyles on the Wairau Bar excavations, revealing early settlement dated around 1230-1280. They also talked about the ongoing research cooperation between Te Runanga a Rangitane o Wairau and the University of Otago.
The next day we did a 4 hour walk on the path around the Wairau Lagoon- a vast network of sea, salt marsh, wetland and islands at the mouth of the Wairau River, with abundant bird life.
There is an excellent account of this lagoon on the link below:
//www.marlboroughonline.co.nz/marlborough/information/geography/wetlands/wairau-lagoons/
On our last morning we explored the centre of Blenheim, and appreciated the large historical signs on the footpath- more cities should do this!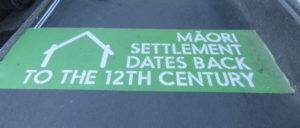 We really appreciated the warmth of Will and Rose, a shared meal, and their knowledge of the area- and also enjoyed a dinner at the outstanding Gramado's Brazilian restaturant in Blenheim.
Kaikoura
These days we love travelling by train or bus – better views, more relaxing, and, importantly, much better for the environment. Sadly Kiwirail's Coastal Pacific train doesn't run in winter months, but the Intercity buses are also excellent.
We travelled from Blenheim to Kaikoura by bus, seeing close-up the vast monoculture of vineyards in Marlborough, with the snow-capped Seaward Kaikoura mountains to the west, then the jagged coastal cliffs and precarious road and railway line so amazingly reconstructed since 2016. We had seen a TV film on the work involved, but the reality is even more overwhelming. We enjoyed close-up views of extensive seal colonies along several kilometres of coastline as we approached Kaikoura.
Our first day in Kaikoura was spent walking – in the morning, around the shops, streets and the museum, and in the afternoon on the coastal track around the Kaikoura Peninsula, with spectacular ocean views and superb sculptures and interpretive panels.
The Kaikoura Museum had a special film running continuously in its Earthquake room- stories about the event and the after-effects, told by locals of all ages and cultures, from a very articulate and down-to-earth young Maori schoolgirl to elderly people who were lifelong residents.
Conventional museum displays – like old farm, fishing and kitchen equipment and wildlife – were separated by tall panels of beautiful poems in Maori and English, written by the curator, a striking Maori woman called Te Awhina Rangimarie Arahanga.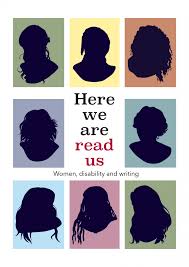 When we met her, she told us that at the request of mana whenua there is no separate Maori history section in the museum- the objects and photographs specific to Maori are integrated throughout the displays.
Te Awhina gave us this special little book produced to celebrate creative women with disabilities.
In the evening we went for dinner at The Pier– a renovated old pub at the south end of the village.
The name Kaikoura comes from the story of a Maori ancestor sitting by the fire eating crayfish" Te Ahi Kai Koura a Tama ki te Raki". We found the crayfish chowder at The Pier amazingly good!
On our second day we went on an Albatross Encounter launch trip with skipper Gary Melville, who has lived in Kaikoura most of his life. He loves and is deeply knowedgeable about the ocean, its mammals, fish and birds. We were lucky enough to be the only two passengers, so we were able to ask all our questions , and develop a deep regard for his attitude and expertise. We saw , thanks to a special creature-friendly feeding station, 6 of the 23 species of albatross, including the giant Royal Southern with its 3-metre wingspan, plus petrels, prions, shearwaters, shags, terns and gulls. Suddenly Gary said, " There's a spout! It's a sperm whale!" and pointed to a distant plume. He took the boat as close as he is permitted to, and we watched the whale basking, spouting and then diving.
As we were returning to shore, a pod of dusky dolphins arrived to frolic around the boat, swooping and leaping. Nearer the shore, Gary drove slowly around a rocky island and pointed out a colony of little spotted shags on one side, and on the other a colony of fur seals with lots of babies.
The next morning we set off on another Intercity bus for Christchurch. Did you know that if you book a Golden Oldie fare you may also find you have special Golden Oldie reserved seats right at the front of the bus? So we marvelled at the ongoing reconstruction work on this stretch of coast from our prime position behind and above the driver. What extraordinary skills and commitment the road and rail designers, engineers and construction workers have shown in finding ways to fix transport access after the obviously huge slips, chasms and uplifts caused by the earthquake..
Christchurch
Just a brief stay. Charmaine wanted to visit old family friend Rudy Schappi, now 92, and still a lively and capable gardener, cook and and story-teller, living in Lincoln. Tanya took time time to walk the streets of the inner city and the changing urban landscape. Our base was an AirBnB apartment in the Tram Terminal (Cathedral Junction) – a quiet, colourfully furnished (with a woman's touch) Quest Apartment just behind Cathedral Square.
We both specially enjoyed visiting Tūranga, the exciting new library, with its crowded family hub and an excellent café on the ground floor, special collections, quiet reading and research spaces above (using white noise to block out sounds from the ground floor) and then labs for virtual reality and 3-D printing creation at the top, with galleries overlooking the city.
In the gallery below there are two pictures of new murals and one of the Margaret Mahy playground in Christchurch, followed by three frames from the huge "comic strip: -113 metres long- on the fence around the new Convention Centre being constructed.
This comic strip- actually a graphic novel by Jane Powell of Re-Edit Publishing – tells the story of Christchurch and the earthquake, from the earliest mana whenua settlements to the present day, with beautiful images and speech bubbles.
//www.otakaroltd.co.nz/news-and-videos/huge-comic-strip-on-convention-centre-site/
We arrived home on Tuesday 2 July

feeling very grateful for enjoying

such a wide range of experiences.