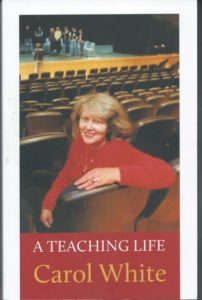 (Charmaine's unabashedly personal views…)
A Teaching Life, by Carol White, has just been published by The Cuba Press. It has been eleven years in the making, since Carol retired from her position as Co-Principal of Selwyn College, in East Auckland.
I was delighted to be asked to write a foreword to it, and then to launch it at the Women's Bookshop.
Carol White is one of the educators of our generation whom I admire most for her humanity, creativity and total commitment to the well-being of students, their families, and the people who work with her. I am so glad to welcome this book- it is inspiring, and beautifully written. It's the best book I've read about teaching for years – it explores most sensitively the relationships between personal and family life, teaching practice and philosophy, and school-community interactions.
I first learnt about the special features of Selwyn College, when Carol White and John Kenny were Co-Principals there, through being invited to participate in professional development for staff and other activities. The warmth and commitment of the school's staff, students and Board members were palpable, and its shared leadership model, relationship with mana whenua, manaakitanga for students from refugee backgrounds, and rich and varied curriculum were inspiring.
From 2005 on I became aware of increasing attacks on the school from a local MP and a Board member; they seemed to want Selwyn College to become a much more conventional, conservative, colourless school. My only criticism of Carol's writing about this period of her life is that she is too gentle about the behaviour of the small group, including some government officials, harassing her and the school politically. It's important that people know how stressful such behaviour can be for individuals and a whole school community, and how inexcusable
Fortunately for Carol and the school, students, families and friends gave enormous support during the hard times. Fortunately, also, good schools are resilient, and Selwyn College flourishes again today, as it did before political pressures took their toll.
I hope Carol's story- of her unusual early family life, as well as her teaching life- told so elegantly and with such honesty, will be enjoyed by a wide audience- anyone, indeed, who cares about the education of children and young adults today, or simply wants to learn more about a fine woman and outstanding educator.
A 30th Birthday Party for the Best Bookshop featuring some of Aotearoa's Best Writers
In an age when twittering is considered a valuable form of human communication, it is great to celebrate the survival of books, and of those who write them and those who sell them!
Carole Beu opened the Women's Bookshop in 1989, and has continued to supply the best of books, especially those written by or of special interest to women, not only in the bookshop but also at festivals throughout the country, and beyond. We are profoundly lucky to have one of the world's few surviving bookshops specialising in women's books.
When Carole wrote to some of the publishers of women writers in Aotearoa asking for speakers at a 30th Birthday Party for the Auckland Women's Bookshop in the ASB Waterfront Theatre she hoped four or five might come- but eleven women agreed to participate! So a big audience of enthusiastic listeners was treated to readings and talks by this amazing collection of literary stars:
Catherine Chidgey
Fiona Farrell
Patricia Grace
Paula Green
Charlotte Grimshaw
Mandy Hager
Stephanie Johnson
Dame Fiona Kidman
Charlotte Randall
Selina Tusitala Marsh
What a splendid evening we had, and how very fitting to celebrate the wonderful Carole Beu, her staff and the Bookshop with a wealth of words by wonderful women !