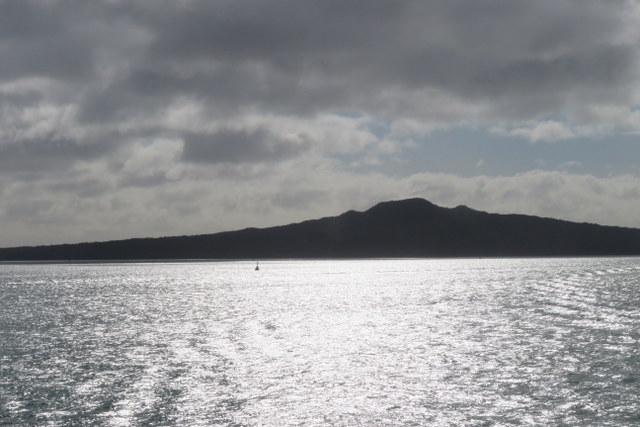 "Where shall we go for my birthday treat, I wonder? Somewhere not too far away, close to nature, simple to arrange, and with a low carbon footprint. How about Rangitoto Island?" Tanya asked herself…and Charmaine …
So here are Tanya's reflections on 14-17 August 2019…
For both of us, the skyline of Auckland has been graced by the symmetrical dark green slopes of our youngest volcanic cone, Rangitoto, all our lives –an opportunity to explore it again sounded perfect to us.
And so, mid week, we hopped on the 105 bus from Grey Lynn to Downtown Auckland (a half-hour journey), then caught the ferry to Rangitoto Wharf (another half-hour trip) and finally tramped for one and a half hours to reach our destination: Bach 78 – a cute, quirky 1920s restored bach on the rocks above Islington Bay, surrounded by Pohutukawa trees.
It is one of two baches lovingly restored by the wonderful voluntary Rangitoto Historic Conservation Trust and available for renting, after almost 100 years. It comes with 6 beds, candlewick bedspreads, hotty bottles with hand knitted covers, crocheted rugs, fine china crockery, gas heater and cooking burners, old paintings, lampshades and furnishings, outside loo and solar shower – and the most amazing views over the water and wharf of Islington Bay.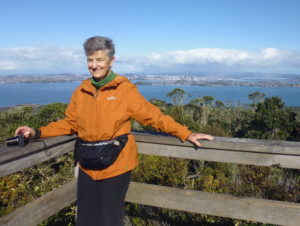 During our weekday stay not another soul to be seen!
And plenty of fascinating tracks to walk (including to the 260m summit of the mountain on my 74th birthday!), botanising to be done, and heaps of books to read.
Rangitoto Island itself is a 650 year old volcano – the youngest and largest of Auckland's 50 volcanoes – which spewed out vast basaltic lava flows and scoria, often jumbled and rough stacked, and created an extraordinary landscape of bare rock, with no surface water or soil and lots of crevices and caves .
Over time, of course, with dust and bird droppings, wind and rain, small pockets of hummus formed and plants began to grow.
Now, over 200 species of native plants thrive there, including 40 species of ferns, 100 species of mosses and liverworts , and 20 species of native orchids. The forest canopy is dominated by pohutukawa and its cousin northern rata and forms the largest pohutukawa forest in the world; in the sheltered crater, manuka, kanuka and tall rewarewa have clothed the slopes.
On the lava flows and scoria slopes plants have been simply establishing themselves by a process of natural succession from primitive moulds and lichens through to the higher orders of trees. The larger plants spread over the rocks by growing out into their own shade and then merging to form a broader forest in time. However, there are still vast areas of lava and scoria with little life evident but patches of lichen.
Where there is shelter, silver astelia and shiny-leafed griselinia lucida are dominant ground cover plants, and there is a variety of mid height shrubs as well as all the ferns, lichens and liverworts on the rocks.
The most spectacular plant at this time of year is Kirk's Daisy/kohuarangi with its startling white flowers.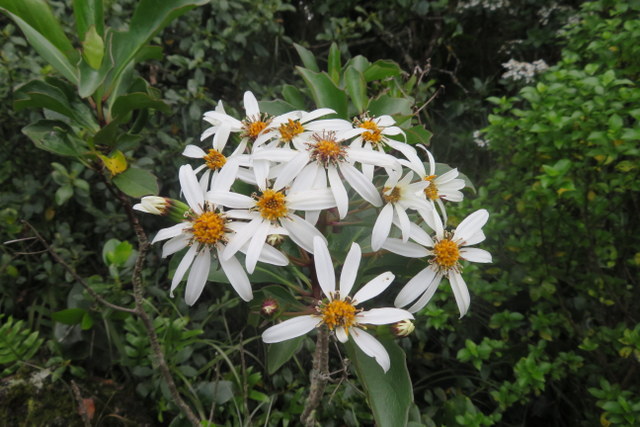 The amazing growth of vegetation has only been made possible because of the Department of Conservation's diligent and persistent pest eradication programme from the 1990s on, with Mana Whenua, the Restoration Trusts on both Motutapu and Rangitoto Islands, and thousands of volunteers – together they have achieved the magnificent goal of getting rid of a myriad of introduced pests like rats, mice, possums, wallabies, ferrets, stoats, rabbits, hedgehogs, fallow deer, and even ostrich and emu. In 2011 both islands were declared mammalian pest free – a huge and wonderful achievement ! but of course we all have to be ever-vigilant for stowaways like rats, mice and argentinian ants. And there is an ongoing battle to remove exotic plant invaders.
On our way home we met some members of the Rangitoto Island Historic Conservation Trust, established in 1997, cheerfully doing some maintenance work on restored cottage No. 38, which is open to the public as a museum, near Rangitoto wharf.
The Trust's worthy aim is to restore, preserve and maintain what is left of the historic and characterful bach communities – consisting originally of about 140 baches built in 1920s and 1930s, but now numbering 40 only – which can no longer be lived in permanently. The Trust welcomes all new members, especially anyone with business development skills and I.T. skills as well as people handy with tools, paint etc.
I am inspired to become a member – anyone like to join me? It is unique to have a resource like this island and its history, only a stone's throw away from a major city.
We will definitely return to Bach 78 (info@rangitoto.org)
We plan to take one of the new Te Haerenga Tours of Rangitoto and Motutapu Islands run by Ngai Tai (tehaerenga.com) in summer, in order to learn more about the mana whenua perspective on these two stunning and very different islands.

Tamaki Makaurau from the summit of Rangitoto