Half of the Sky

This stand-out Massive Theatre production, written by Lennie James and produced by Sam Scott, stars:
Kura Forrester, Rose Henare Ashby, Grace Palmer, Max Palamo & Pat Tafa
It is on at Q Theatre in Auckland until Saturday 26 October
…catch it if you can before it finishes!
Three sisters, their house painter and his foster son gather for a birthday party, and confront their own troubled pasts, their relationships, and an impending death. Very funny, deeply sad, brilliantly acted and profoundly moving. The finest play we've seen this year….
Sau E Siva: Fa'asinomaga/Identity
Sau E siva is a wonderful group of young people (up to 60 of them on stage at a time) who are worth watching wherever they perform. This celebration in dance and song celebrated Samoan culture, and a sense of identity, in a variety of styles and costumes, with huge energy, skill and vigour- an evening of delight!
The Climate Action Strike ..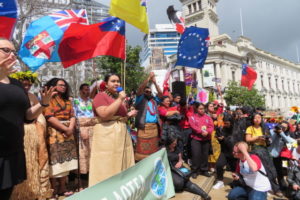 We took part in the Climate Change demonstration organised by students in Aotearoa on Friday 27 September, which was notable for the huge turnout. Aotea Square in Auckland was packed and spilling over, and the march filled Queen Street from Aotea Square to Customs Street. Also noticeable were the strong Pasifika groups- Tongan, Samoan and Tuvalu-Tokelau in particular. They often led with korero and waiata. They are deeply aware of climate change impact – Tuvalu has almost lost two islands already because of rising seas…
//www.theguardian.com/global-development/2019/may/16/one-day-disappear-tuvalu-sinking-islands-rising-seas-climate-change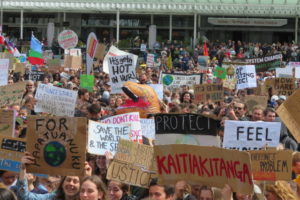 Placards in the September demonstrations were creative, and speakers passionate- there is no doubt that many thousands of young people (and a significant number of us oldies this time too) are deeply concerned about lack of effective government action here and throughout the world.
Apparently 170,000 marched that Friday in Aotearoa, with big occupations or marches in the main cities, but also lots of smaller demonstrations elsewhere..
We have no doubt these actions will grow until governments take stronger action to limit carbon emissions and support alternative energies and food production methods.
Heritage Month in Auckland
October is Heritage Month in Auckland. It's been mainly a celebration of male Pakeha colonial history in the past, but this year we were pleased to see a greater presence of Maori, Pasifika and Chinese activities, and more featuring women..
We've enjoyed particularly:
a tour of Karangahape Road architecture, history and story-telling, led by Edward Bennett– a very informative guide
a group walk around New Lynn with Dr Miriam Saphira, founder of the Charlotte Lesbian Museum celebrating some of the women in the history of the area…..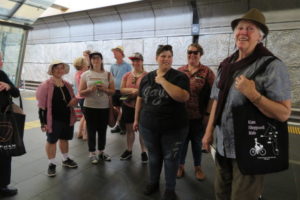 Louise Purvis designed the panels lining the New Lynn Train Station, and has also crafted an artwork called Homage to Crown Lynn in Olympic Park;
A plaque celebrates the life of Briar Gardner the potter , who is believed to be the first to exhibit Auckland-made pottery, in 1930- and who retrained as a teacher of speech and drama at the age of 73 after her brothers stopped her using the family's pottery workshops!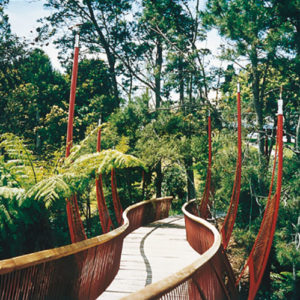 Virginia King designed this elegant bridge and walkway over the Rewarewa stream
We also enjoyed a conversation with one of the women staff at the BikeHub about the wide range of activities offered by Ecomatters at the Sustainability Centre in New Lynn and elsewhere:
see //www.ecomatters.org.nz/ecohub/
Later in the afternoon we were entertained by Dr Joanne Drayton, at the Charlotte Lesbian Museum.
Joanne is a notable NZ author of several books on New Zealand women artists and writers: do look at her interesting website:
But it was, of course, her knowledge of the lives of several New Zealand women artists and writers which she shared with us last Sunday, including Edith Collier, Frances Hodgkins, Dorothy Richmond and Ngaio Marsh, all of whom had strong attachments to women, and most of whom spent part of their life overseas in relationships with women.