Tanya's four-day adventure with Stephanie..
On the last morning of our recent tramp out of the magnificent Whirinaki Podocarp Conservation Park (located between Rotorua and Te Urewera), Steph's acute eyes spied a whanau of whio, the rare native blue duck – parents and six ducklings – preening themselves on a log, far below us in the Whirinaki River – a gorgeous sight – an unexpected highlight of our 4 day experience of this rich and ancient rohe of Ngati Whare Iwi .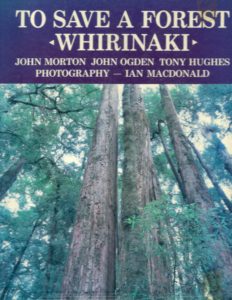 I had first visited this forest in 1979 with the environmental group Native Forest Action Council who were protesting against the continued logging of the giant podocarp trees. (See the eloquent and compelling book To Save A Forest- Whirinaki – published by David Bateman in 1984).
Fortunately for the forest, the logging was stopped in 1987. However the consequences of this government decision were devastating for Te Iwi o Ngāti Whare whose lives and livelihood depended on the forest work. The population in the villages of Te Whaiti and Minginui dwindled to a couple of hundred over the years and the future looked bleak.
However this year, 2019, has seen the Iwi produce an inspirational Tribal Revitalisation Plan for themselves, after a lengthy process of hui.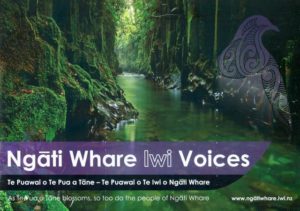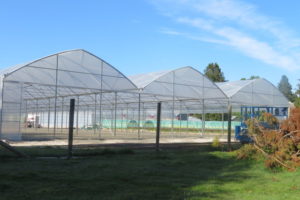 It started in 2016 with the establishment of the Minginui Plant Nursery which will produce 1 million native trees this year.
And recently the iwi has completed a $1 million refurbishment of their historic Waikotikoti Marae complex.
Many more projects are being planned for their bright future, including, hopefully, tribal guided walks and other activities in the forest for visitors like us who want to understand iwi values and tikanga as we journey into new rohe.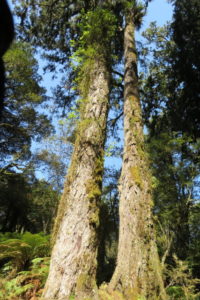 But back to this ancient forest of rimu, kahikatea , miro, mataī and tōtara – some reaching 65 metres tall and up to 800 years old – forming the top canopy of trees, with either tawa, or kamahi and beech, dominant below the podocarps . And everywhere the forest floor was carpeted with a rich diverse mat of dark green filmy ferns and other ground covers.
The bird life is diverse (supported by DOC's intensive pest control programme) – pīpīwharauroa, kokoea, tūī, korimako,toutouwai, mohua, ruru, pīwakawaka, kākā taking turns in singing poetically and purposefully.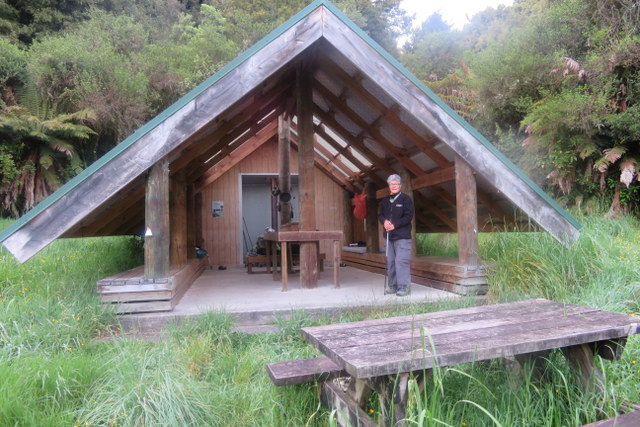 And the DOC huts have great atmosphere. Our favourite was an open wooden shelter in the shape of a wharenui with outstretched arms to welcome our weary bodies.
The tramp was a bit of a stretch for my ageing body (especially the first day of 16kms and 7 hours tramping) but I managed, and a visit to my trusty Cranial Osteopath, Greg, on my return home released all the tight spots! Steph , only a year younger than me but a veteran of tough tramps, is as fit as a fiddle and takes everything in her stride.
We enjoyed " The old Jailhouse" accommodation in Te Whaiti with Marlene of Ngati Whare and partner, Gary, who are local hunters and gatherers and who served local venison steaks with mashed spuds and asparagus for dinner on the night before we set off tramping.
Our journey home included stopping off at Te Runanga o Ngati Whare tribal office on the main Murupara/ Rotorua Road where Kaiwhakahaere Mary Reedy talked with us about the early days, and planned future projects, in the rohe.
(See www.ngatiwhareiwi.nz)
And then a healthy lunch and more talk at D's Cafe in Murupara, run by the two Delamere sisters of Ngati Whare.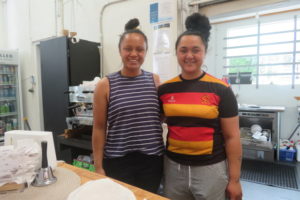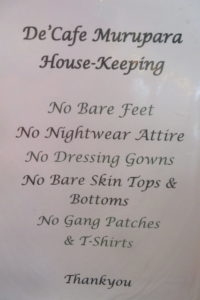 The whole experience, although brief, gave us a rich insight into a unique forest, and an isolated corner of Aotearoa in which Mana whenua are working creatively to revitalise their communities.