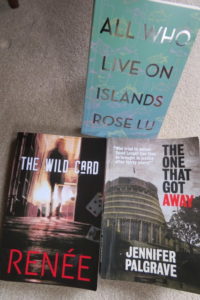 We've had precious time in the evenings to read three new New Zealand books.
We have really enjoyed two new novels written by NZ lesbians we know, set firmly in Aotearoa, and with some clear political implications. It's so lovely for us as lesbians to read about ourselves and our worlds for a change!
Renee's The Wild Card, and The One that Got Away by Jennifer Palgrave (pen name for joint writers, Hilary Lapsley and Lois Cox) are both crime stories with a difference and each is a good gripping read .
The Wild Card is about an old crime as well as new, and touches on issues of race, adoption and life in a small community, centred round a drama club performing "The Importance of Being Earnest".
The One That Got Away is very political, woven around an attempt (fictional!) on the life of former Prime Minister David Lange, which two lesbian friends decide to investigate, as well as suspicious events in the present.
And we're just beginning a book of essays, All Who Live On Islands, by Rose Lu, a new voice in Aotearoa from a Chinese migrant family, – very moving and thought-provoking.