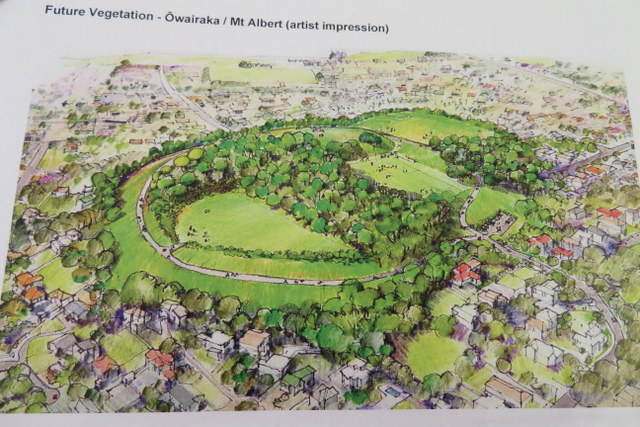 In late November we became involved in political action on our local maunga in Tāmaki Makaurau – Ōwairaka/Mount Albert.
We had heard on the news that a small group of local residents had gathered half way up the mountain to stop a tree-felling firm from carrying out the instructions of the Tūpuna Maunga Authority to remove 324 exotic trees in order to plant 13,000 natives.
When we read the background to this dispute we knew we wanted to show our support for the Tūpuna Maunga Authority, which owns the maunga and has the absolute right of governance over the 14 designated mountains, including Ōwairaka. The Tūpuna Maunga Authority has the support of the Tree Council of Aotearoa/NZ and Forest and Bird Society (NZ) for its planned selective felling and intensive replanting programme. (see below for more details about the Tūpuna Maunga Authority)
The Tūpuna Maunga Authority invited all people concerned about their revegetation project to a special gathering on the mountain on Thursday 28 November at 10.30- a Whakawātea and hui. Tanya made a couple of placards "Pākehā Support Mana Whenua".
Foolishly, we think, most of the local protestors decided not to come to the hui .
However, three other tauiwi women, opposed to the Maunga Authority, spoke out in offensive and inappropriate ways, calling themselves 'mana whenua' and preaching a love for exotic trees and birds without any respect for the rights of Mana Whenua who have been dispossessed of these maunga for the last 170 years. They have been quarried for scoria , reshaped with playing fields, topped with concrete reservoirs, and had burial areas desecrated. These tauiwi speakers clearly put exotic trees ahead of the rights of mana whenua.
Many people present, both Maori and tauiwi, were deeply angered by their words.
It is a measure of Maori generosity of spirit that they wish to restore these maunga with native trees and keep them available to all people in Auckland as special areas for walking, reflection and enjoyment of the peace and the vistas they will offer when replanting is completed.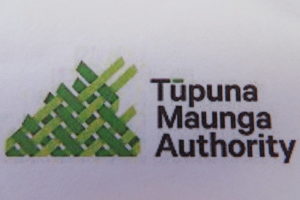 Notes on the Tūpuna Maunga Authority

A new statutory body, The Tūpuna Maunga Authority, was set up in Tāmaki Makaurau/Auckland by law after lengthy Treaty negotiations

in the Ngā Mana Whenua o Tāmaki Makaurau Collective Redress Act 2014.

Fourteen of the volcanic mountains on the Auckland isthmus were transferred to the 13 iwi/hapu of Tāmaki Makaurau under this Act,

and ownership is held by the Tūpuna Taonga Trust, which is their collective settlement entity.