… from Ōtepoti-Dunedin, where for two weeks we're housesitting for friends, Fiona and Glenn Erik, former neighbours at Earthsong.
It's wear-merino weather here still, cold even on the sunny days…
We've slipped easily into our gracious 1920s red brick homesit high on the hills of Ōpoho in North Dunedin, and are enjoying tending to gardens and chooks again.
Ōtepoti is a characterful city of 138,000 people, with old stone and brick stately homes and buildings, elegant spires and towers on churches, schools and other public buildings.
It's well wooded, with a protected green belt encircling the western edge of the city, and large Botanical Gardens in the north.
Everywhere there are gorgeous gardens of rhodo, roses,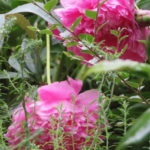 peonies and poppies,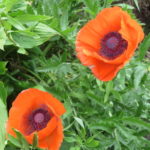 and hedges of holly.
Tui and korimako call across the valleys, and kereru perch, often in pairs, on power lines, or swoop low across the gardens..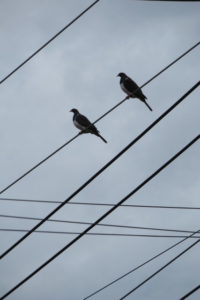 We hop on the Number 10 bus to go downtown to the Octagon, in the city centre, to explore changes since we were here last in 2015.
One of our pleasures is sampling cafes – we've had several lunches at an outstanding organic shop and cafe, Taste Nature, and the best blue cod, chips and salad dinner in years at Cafe Best , which has been operating as a sit-down fish'n'chips cafe here since 1932- and is now owned and managed again by a descendant of the founding family. We've also had an excellent plant-based lunch at Buster Greens.
And on Thursday we lunched with Suzanne Menzies-Culling at The Kitchen Table, an excellent cafe in the heart of a trust- owned social justice hub which has been home to many of Dunedin's committed voluntary organisations over the years.
We went on a Good Company Dunedin City Tour to get a deeper appreciation of the city. We were lucky to be the only two passengers with Ross Davies, the driver and guide, and appreciated his knowledgeable commentary, especially on Pakeha settlement and architecture.
We've learnt more since about mana whenua's thousand years of history in Ōtakou, from the excellent Ngai Tahu website www.ngaitahu.iwi.nz/ngai-tahu/
Last week, the city centre was full of graduates in colourful cap and gown from many different cultures and faculties of the University and Polytechnic. Students make up twenty percent of this city's population.
We've also caught up with several special people: Tanya's cousin Dale and husband Murray from Macandrew Bay; Chris, our former earthtalk@awhitu team member, now living near Pleasant Point; Roshni from the former Waiuku Mistry family, who lives with husband Kashi and their two children in Port Chalmers; Suzanne from the whanau-based community network, Freedom Roadworks, and a long-standing Treaty Education and Decolonization worker in Ōtakou; she runs the consultancy business Tauiwi Solutions.
And, unexpectedly, we were able to join a lively bunch of Dunedin lesbians at their final monthly dinner for the year.
We're also enjoying some reading in the evenings, including two new novels by NZ lesbian friends and a book of essays by a newly published Chinese New Zealander: see item below…