During February we have felt a growing sense of pride in Aotearoa- pride in the progress we are making to become a Treaty-based nation and in our growing capacity for diversity -the ability to welcome and include people of different ethnicities, cultures, religions and genders. We've enjoyed the rainbow colours of Skytower, and of the steps in Freyberg Place, plus the big pictures with quotes from takatapui Auckland Council staff in the square, too.
We, of course, as lesbians, take special delight in the Pride Festival in Auckland, which has become a major feature of February each year. And this year, a new magazine was published: Our Selves: Issue One of A journal of Queer Culture: He Hautaka Tuakiri Takatapui, which also included details of more than 150 events and activities.
We enjoyed the Pride and Poetry Speakeasy by Leys Institute staff, and the Grey Lynn Library staff the next night in The Sisters Gay Present… , a fun evening of readings, song and dance..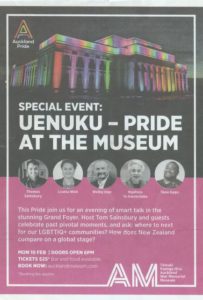 We both went to Uenuku – Pride at the Museum, to hear two of our lesbian friends, Ngahuia Te Awe Kotuku and Louisa Wall, talk about being "out" lesbians for much of their lives, and two gay men, Tanu Gago and Welby Ings, about their rather different experiences.
The Same Same But Different Festival , now in its fifth year, was founded by Peter Wells, who sadly died just after last year's event. This year, Charmaine was asked to give the first Peter Wells Memorial lecture- which was actually an interview by Julie Watson, organising committee member and former AGGS colleague.
Charmaine began with a tribute to Peter Wells, his extraordinary career as writer, film-maker and festival initiator, and his courage as a gay man in sharing his life story and the diary of his dying. She then talked about her own experience of being adopted, and being different, and her attempt for many years "to please and appease", before she found her truth as a self-acknowledged lesbian, and a few years later began her relationship with Tanya. (We celebrated 35 years together on 8 February this year!)
This was the first time Charmaine had shared her story in this way, and she was glad of her very warm and supportive audience.
Our favourite panel of speakers, chaired by Victor Rodger, was the group Playwrights: Setting new Scenes
All people to watch out for in the future…
One of the huge changes in our society is the availability of information about gender and sexuality these days, compared with the near total absence of acknowledgement of our existence as queer people when we were young. These publications today, for instance…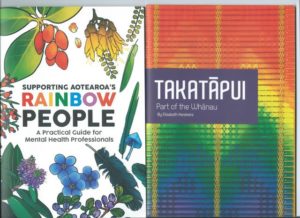 Pride Parade
We have one more event booked- participating in the Pride Parade to be held at the end of February, as part of Carole Beu's crew, celebrating the Women's Bookshop. In the meantime we'll continue to appreciate the variety of events advertised and maybe enjoy some more.